While many auto manufacturers are gearing up for the next wave of automotive revolution, to produce more electric cars (including PHV - Plug-in Hybrid Vehicle) in-lieu of gasoline / diesel powered vehicles, are buyers and local government agencies (e.g. LTA, NEA, SCDF, BCA, etc.) ready for this big wave, and I am not merely referring to the basic infrastructure concerns, such as charging and servicing facilities.
As the title suggested, this thread is more for taking an in-depth view on Safety and Environmental concerns, with regards to sales, usage, servicing and disposal of electric cars (mainly with the batteries). For a start, I will just be touching on the following, while more topics will be added in due course. I would welcome all to share their thoughts, and relevant stakeholders to take a leaf out of this topic.
1. Batteries
At the moment, there are 2 main type of batteries commonly used in electric / hybrid vehicles:
i) Nickel Metal Hydride (NiMH)
ii) Lithium Ion (Li-ion), which uses different cathode materials such as Cobalt Dioxide, Nickel-cobalt-manganese, Nickel-cobalt-aluminum, Manganese oxide spinel & Iron phosphate.
NiMH is most widely used in automotive industries as it is relatively safe in term of raw materials use, during charging / discharging, and emit less harmful substances during a fire, BUT have a lower power density (typically about half of what Li-ion can do), meaning it will either have a shorter traveling distance, or take up much more usable space (and weigh more) if to maintain a certain mileage.
Li-ion, on the other hand, while enable electric cars to cover hundreds of miles per charge (without taking too much boot or cabin space), are much more hazardous, in the way that it can have a run-away reaction (resulting in fire / explosion) when exceeded a certain operating / storage temperature (~60 °C), emit toxic gases and substance during a fire, so more awareness and precaution is needed.
Due to the characteristics of these batteries, special considerations have to be taken during storage, handling and usage, such as proper ventilation (to prevent gas built up - Oxygen, Hydrogen, etc.), minimized risk of dropping / knocking (Li-ion batteries maybe be rendered unsafe if dropped or subjected to sever impact), means of safety cut-off (to prevent over heating, triggering run away reaction) and such.
2. Building Infrastructure
With reference to the above, special facilities (with precise temperature monitoring and control, enhanced ventilation system, specific fire-fighting system and equipment) maybe required for storing large amount of batteries. Mixed occupancy, i.e. storage and workshop facilities under the same roof, have to be carefully evaluated, to identify incompatible activities, e.g. workshop may produce excessive heat / spark (ignition source) thereby increasing the risk of fire / explosion.
Also, is the existing fire compartmentation for building (fire code, regulations) sufficient to contain battery fire? Li-ion batteries for example will continue to burn once it hit the auto-ignition temperature, and the only control is to cool the surrounding to prevent fire from spreading to neighboring premises / units.
In the case of an electric vehicle fire within say a basement car park, building structure must be able to withstand the period of time when the batteries continue to burn, ventilation system to be able to effectively remove toxic gases produced, such as CO, Ni & Li vapor, and means of cooling provided to contain the fire.
3. Fire Fighting and Emergency Response
Interestingly, the most commonly used dry power extinguisher is NOT going to work on Li-ion batteries. Beside using cat D extinguisher - for metal fire (which is not commonly available anywhere), the next best option is water, mainly to cool down the surrounding and lower the battery temperature (to prevent explosion).
And for fireman, the protocol is to attempt fighting the fire ONLY WITH proper respiratory protection - full breathing apparatus (prevent inhalation of toxic gases / vapors). If you thing this is no big difference from other fire fighting attempts, you are wrong. Fireman will also have to adopt the proper procedure.
One important step is to cut off the power supply to the vehicle. Tesla has done pretty well in detailing the steps to fight fire on it vehicles (through publishing Emergency Response Guides for vehicles in their lineup). And hopefully our fireman from SCDF, when deployed to handle such electric car fire, will be fully aware of these steps...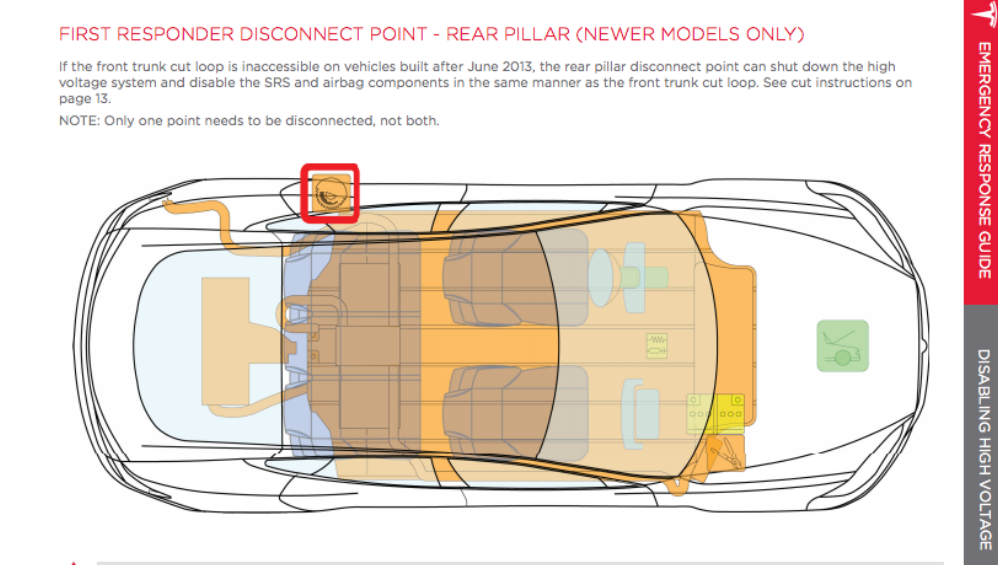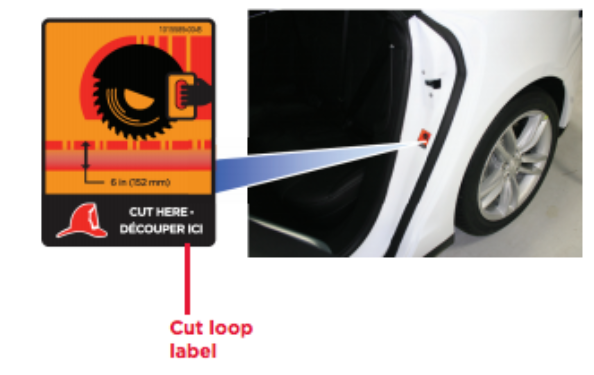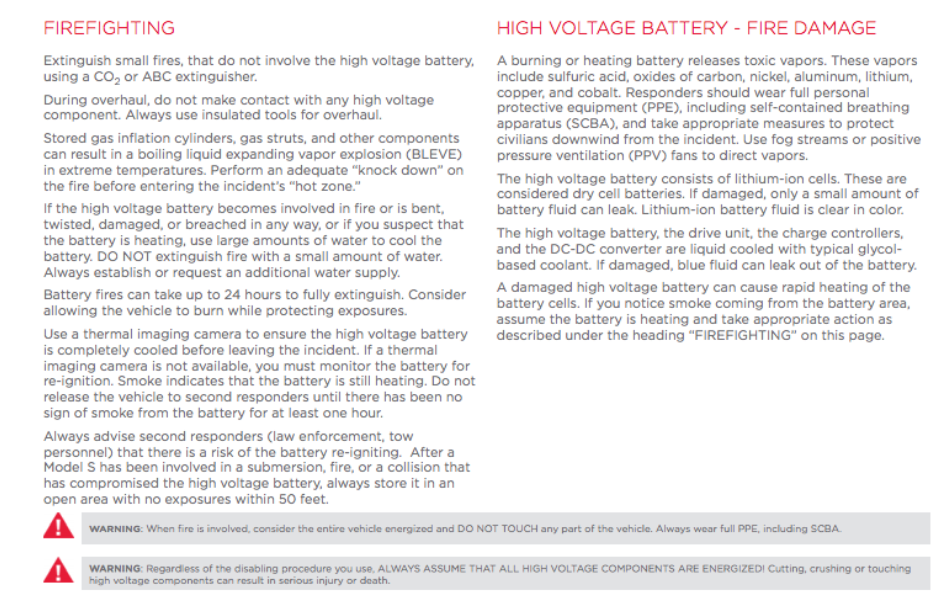 And here is a video taken recently, when a team of firefighters in Austria was responding to a Tesla Model S on fire.
Firefighters with full BA set (breathing apparatus)
Firefighters accessing to power disconnection switch
And the responsible shall be shared by the owner of electric car too. They have to be fully aware of what to do when their vehicle catch fire, and keeping the fireman informed of the key information, e.g. location of power cut off switch, battery packs, etc.
4. Servicing and Disposal of Batteries
The onus shall be mainly on the workshop and dealer performing the job (provided the owner send their electric cars to the right place for the job). Beside safety concerns with the high voltage of the electrical system, proper charging and discharging process must be observed during replacement. For example, if the positive and negative terminals of the battery come into contact, short circuit will arise, followed by fire.
On environmental front, proper supply chain has to be established, to ensure that the used batteries will be disposed in accordance to local and international standards and guidelines. And during the treatment process, again, the toxic material and gases have to be properly taken care of.
T.B.C.
Edited by Carbon82, 19 October 2017 - 02:38 PM.