Chinese New Year is coming.
Yu Sheng, or Cantonese as lou hei, is one of the main dishes that most people will get to eat during Chinese New Year.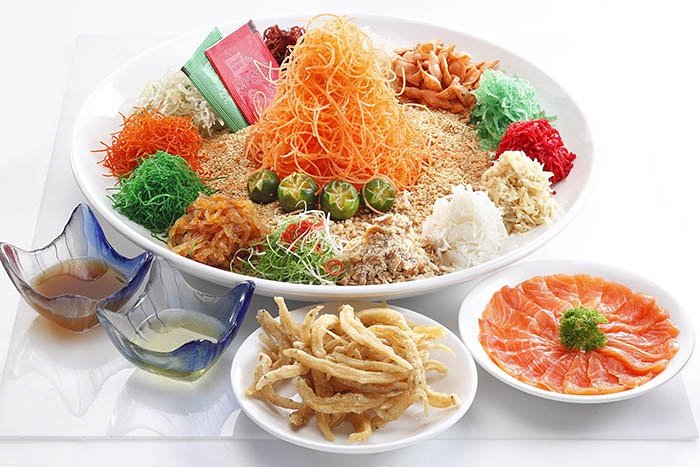 Yusheng, yee sang or yuu sahng (Chinese: 魚生; pinyin: yúshēng), or Prosperity Toss, also known as lo hei (Cantonese for 撈起 or 捞起) is a Cantonese-style raw fish salad. It usually consists of strips of raw fish (sometimes salmon), mixed with shredded vegetables and a variety of sauces and condiments, among other ingredients. Yusheng literally means "raw fish" but since "fish (魚)" is commonly conflated with its homophone "abundance (余)", Yúshēng (魚生) is interpreted as a homophone for Yúshēng (余升) meaning an increase in abundance. Therefore, yusheng is considered a symbol of abundance, prosperity and vigor.
While versions of it are thought to have existed in China, the contemporary version was created and popularised[citation needed] in the 1960s amongst the ethnic Chinese community and its consumption has been associated with Chinese New Year festivities in Malaysia, Indonesia and Singapore.
Today, the common form of yusheng is the qicai yusheng (七彩鱼生; "seven-coloured raw fish salad") served in local restaurants during the Chinese New Year period. Also referred to as facai yusheng (发财鱼生; "prosperity raw fish salad") or xinnian yusheng (新年鱼生; "Chinese New Year raw fish salad"), this colourful take on yusheng was said to be created in the 1960s by chefs Lau Yoke Pui, Tham Yui Kai, Sin Leong and Hooi Kok Wai, together known as the "Four Heavenly Kings" in the Singapore restaurant scene. The recipe included ingredients such as shredded white and green radish and carrots, ginger slices, onion slices, crushed peanuts, pomelo, pepper, essence of chicken, oil, salt, vinegar, sugar and more. To enhance the taste, the chefs began the practice of pre-mixing the sauce in order to ensure a balanced taste for each dish as compared to the past when diners mixed the sauce themselves. This new way of eating yusheng was not readily accepted until the 1970s when younger diners embraced it. From then on, the popularity of this yusheng recipe soared and spread overseas.
https://en.wikipedia.org/wiki/Yusheng
So, any good recommendations for good yu sheng this year?
And how often do you eat yu sheng during the 2 weeks of Chinese New Year celebrations?