Motul H-Tech Prime 5W40 Vehicle Servicing
$120
Posted on: 23 Jan 2023 | Updated on : 23 Jan 2023
Merchant information
(3 Reviews)
48 Toh Guan Road East #01-136 Enterprise Hub S(608586)
10am - 7pm (Mon - Fri) 10am - 6pm (Sat) Closed on PHs
84025982
Ad information
Motul H-Tech Prime 5W40
Includes:
5L engine oil

Oil Filter

Full vehicle check

Free Tyre rotation & Balancing

Ad information
Motul H-Tech Prime 5W40
Includes:
5L engine oil

Oil Filter

Full vehicle check

Free Tyre rotation & Balancing

Merchant information
(3 Reviews)
48 Toh Guan Road East #01-136Enterprise Hub S(608586)

10am - 7pm (Mon - Fri) 10am - 6pm (Sat) Closed on PHs
84025982
Posted on: 23 Jan 2023 | Updated on : 23 Jan 2023
Features & specs
Specially designed for new generation engines (gasoline, diesel, LPG, turbocharged and direct injection). H-Tech Prime 5W40 is recommended for cars requiring VW 502 00, 505 00 or MB-Approval 229.5 oils.
All driving conditions : City, Road, Highway.
Performance 
Standards : API SN ACEA A3/B4
Approvals : VW 502 00, 505 00, MB-Approval 229.5
Has been developed to provide the following protection:
Outstanding detergent and dispersant properties which meets the stringent ACEA B4 requirements
Superior anti-sludge and anti-wear performance to keep engine clean and protected
Advanced additive chemistry to provide excellent fuel economy
Excellent in meeting OEM extended drain targets
Anti-corrosion and anti-foam properties
Recommendations
Drain interval : According to manufacturers' recommendations and tuned to your own use. Motul H-Tech Prime can be mixed with synthetic or mineral oils.
Properties
Viscosity grade : SAE J 300 | 5W40
Density at 15°C (68°F) : ASTM D4052 | 0.853
Viscosity at 40°C (104°F) : ASTM D445 | 85.1 mm²/s
Viscosity at 100°C (212°F) : ASTM D445 | 14.0 mm²/s
Viscosity index : ASTM D2270 | 170
TBN : ASTM D2896 | 10.8 mg KOH/g
Consumer Reviews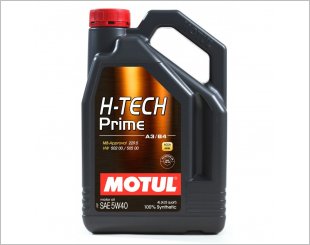 Just used this oil for my latest car servicing. Felt that the car is more responsive moving off from traffic lights, smooth and quiet at cruising speed. Similar to the previous oil I had used - Motul 8100 X-cess 5W40.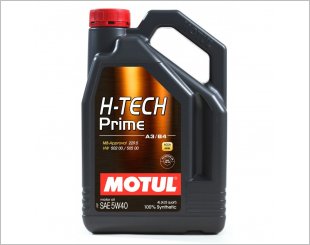 Had the opportunity to try out Motul H-Tech Prime 5W-40 engine oil. Before that was on Amsoil 5W-40 for 12K kms. Had EO changed on 17 Jan and here are the observations after 1 week: 1. Engine was smooth and quiet during start up. This is evident with new EO change. 2. Need to accelerate harder to reach same speed (power came on slower) compared to Amsoil, Redline and Motul 300V used previously. Comparable to Pennzoil Ultra Platinum 5W-30, Motul 8100 Eco-enery 5W-30 and Castrol Edge 0W-40. 3. Mileage dropped by 10% But not conclusive as oil is new. This are the observations for 1 week of using Motul H-Tech 5W-40 on an 11 year old car at 190K mileage.
More items from this seller
Email Enquiry
This enquiry will be sent directly to the seller.
*
indicates compulsory field.