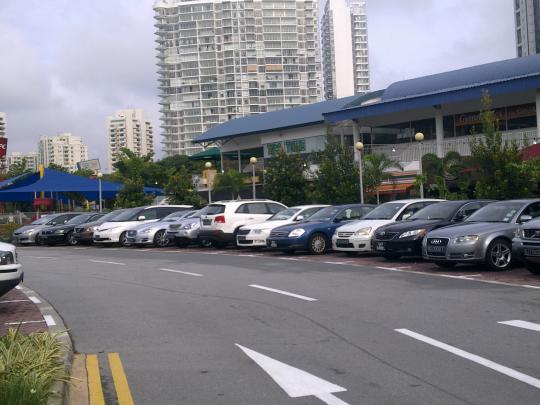 I believe most readers who stay in the East would be able to recognize the location of the above image. Yes, it is taken at Big Splash in East Coast Park, Singapore's longest park. As you can see, business seemed to be quite good, with the row of parking in front of Old Town White Coffee fully occupied. You might be thinking that this image was captured on a weekend morning, but it is not….
I actually captured the above image on 28 March 2011 at about 9am. I happened to be on leave that day and had an early morning run at East Coast Park. I was surprised at the morning crowd at Big Splash and continued walking to my car, which was parked along the row of parallel parking behind Big Splash. The row of parallel parking was about 40% occupied, as evident from the image below. I had the understanding that parking at Big Splash was free on weekday, but only from 12noon to 2pm to capture the lunch crowd. I was puzzled on why people want to pay for parking instead of taking advantage of the free parking along the roadside.
I happened to turn my head and saw the banner hanging on the lamppost. Apparently, Big Splash management (BSM) has decided to make parking free of charge to the public on weekdays, between 5am to 5pm. My puzzle was solved. In my opinion, it is a good move by BSM to capture the weekday morning breakfast crowd. Both Old Town White Coffee and Mr Prata had a fair share of customers. This goes to say that free parking is truly a contributing factor in attracting customers.
The reserve is true. There is a coffee shop at the junction of Still Road and Joo Chiat Place (in front of Raffles Hostel International). It was buzzing with customers for a period of time due to the availability of a large free parking area. Ever since it started to impose parking charges, business dwindled rapidly and most of the stall owners had moved out.
In Summary, the hard truth of keeping business going is to offer free parking to walk-in consumers. It may not be the only factor but certainly a vital one. In times of high inflation, saving a dollar or two means a lot to most common folks.

big splash

,

east coast park

and 3 more...
Viewed: 392 times