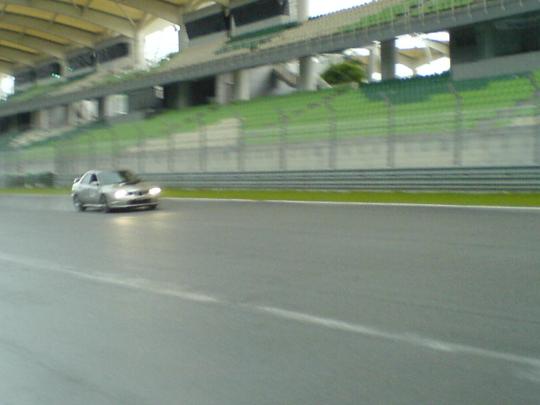 Last Sunday (9th May 2010) marked an event held for the 10th anniversary of a pretty famous Malaysian based website called Zerotohundred.com. Together with High Performance Challenge (HPC), they had organized a time attack shootout at the Sepang International Circuit (SIC) dubbed Time To Attack: Sepang. The event was scheduled right after the HPC track day held in the morning and the turnout for both events were pretty great in light of the rain that was almost continuous since 11.45am till about 5.00pm.
- Alfa Romeo from SG included a Brera, 156 GTA, these two 147s and a GT
There were participants from Malaysia and Singapore for both events and being there was an experience. However, the rain made things pretty difficult for some and exciting for others but it also wrecked havoc with the telemetry equipment resulting in a long waiting period for those participating in the time attack. It was raining pretty heavily as you can see in the pictures.
All categories had posted their first run in the rain, providing an equal challenge for all participants. I was there with a group of friends, one of whom happened to be the proprietor of a Subaru specialist garage in Subang Jaya, Malaysia. He and two other garage mates entered for the time attack in the 'Turbo—Road' category. It was fun hanging out with the guys, taking our unofficial lap times for the time attack runs.
We found out that a Nissan GTR can lap Sepang at 2minutes 30secs in damp conditions, with the younger brother of Fairuz Fauzy (reserve driver with the Lotus F1 team) at the helm and that a fully race prepared Aston Martin on Michelin rain tires could only manage being 4 seconds slower. This shows that talent is an important factor too aside from a very well prepared car.
The Subaru Imprezas were pretty impressive; of course in the first fully wet runs their times were surprising slower than some Golf GTI Mk5s. (Scooby doing about 3m 08s and the Golf nearly a second better) This was the magic of the stock Traction Control Systems built into the Golfs. This is something to think about if you intend to drive in the wet. Even All Wheel Drive may need TCS assistance.
Later on when the rain stopped and the track started drying (It was still damp everywhere) the boys driving the Imprezas took the four top spots in the Turbo-Road category. I suppose the 'right foot' traction control works better in the damp than in the wet. Now how do you suppose the Impreza did against a GTR driven by a trained race driver on proper tires? Between 7 to 8 seconds behind. Not bad for a car with at least a 100bhp deficit (some of the Imprezas had a lot of horsepower more than stock, but not 500bhp and road tires) and about S$200,000 extra in price.
It was a tiring but satisfying weekend at Sepang. And kudos to all participants as according to the people I knew who participated, it was white knuckles and wet pants through some of the wet and wild corners!
- this car suffered from entering into the gravel trap, luckily no real damage done
-an ST Powered Civic
- eye candy. This car was visiting friends who participated
-Novitec Rosso Ferrari 430 in Matt Grey anyone?

Track Day

,

HPC

,

Time Attack

and 4 more...
Viewed: 1,828 times