Paris to ban old and polluting vehicles from its center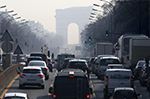 Expected to start in June this year, the ban will affect buses, coaches and lorries registered before September 2001. Passenger cars registered before December 1996 and light commercial vehicles registered before September 1997 will also be included in the ban.
These restrictions will become even stricter towards 2020 as the Mayor of Paris has already expressed her desire to progressively remove most diesel vehicles from Paris as they are considered to be the most polluting. In fact, the government has already started encouraging owners of the older diesel vehicles to swap over to electric vehicles by offering them incentives of up to S$15,000.
Other European cities such as London might follow suit in the near future as they are also concerned about the high levels of nitrogen oxides and fine particles produced by these older diesel vehicles.