Audio System MXC-130 Coaxial Speakers
Posted on: 08 Jan 2020 | Updated on : 08 Jan 2020 | 7 views
Merchant information
(33 Reviews)
50 Bukit Batok Street 23 #02-21 Midview Building S(659578)
9am - 7pm (Mon - Sat) Closed on Sun & PHs
64251220 98155500
Ad information
130 mm Coaxial System
13 mm soft dome neodym tweeter

norm chassis with glassfiber cone and Nomex spider

outer diameter: 130/150 mm

installation depth: 54 mm, installation dimension: 115 mm

impedance: 3 Ohm

power: 2x 110/70 Watt

Equipment: 2-ways

Diameter (in cm): 13

Form factor: Coax-System

Impedance (in Ohm): 4

Peak Power (in Watt): 110

Power RMS (in Watt): 70

Our Services
Audio system in car entertainment
Car air cinditioning servicing / maintenance and repair
Accessories retail
Security system
Car mats
Solar films and tinting
Car battery
Car recorder
Car power enhancement
Call us now or visit our website to know more!
Website:
http://www.designerice.sg/
Facebook:
https://www.facebook.com/DesignerICEEnterprise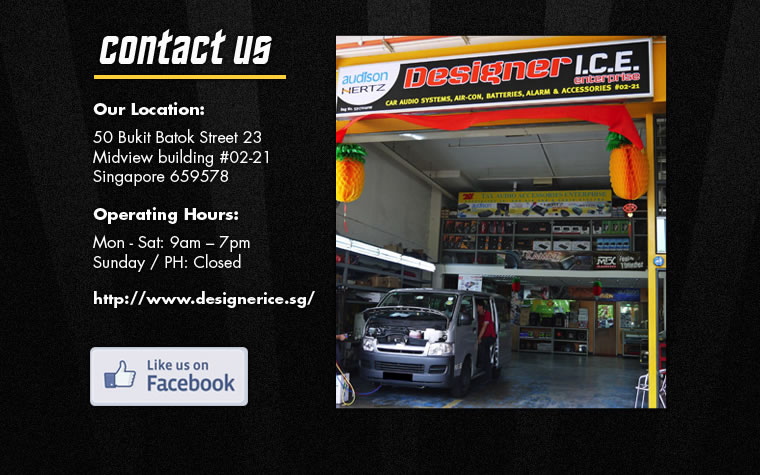 Ad information
130 mm Coaxial System
13 mm soft dome neodym tweeter

norm chassis with glassfiber cone and Nomex spider

outer diameter: 130/150 mm

installation depth: 54 mm, installation dimension: 115 mm

impedance: 3 Ohm

power: 2x 110/70 Watt

Equipment: 2-ways

Diameter (in cm): 13

Form factor: Coax-System

Impedance (in Ohm): 4

Peak Power (in Watt): 110

Power RMS (in Watt): 70

Merchant information
(33 Reviews)
50 Bukit Batok Street 23 #02-21Midview Building S(659578)

9am - 7pm (Mon - Sat) Closed on Sun & PHs
64251220 / 98155500
Features & specs
Audio System MXC 130 is a 130mm MXC-SERIES Coaxial System with a handling power of 70W.
130 mm coaxial system 
13 mm fabric neodymium tweeter 
Standard chassis with fiberglass cones and Nomex spiders 
Outside diameter: 130/150 mm 
Depth: 54 mm, dimension: 115 mm 
Impedance: 3 Ohm 
Power: 2x 110/70 Watt
Consumer Reviews
N/A
There is no consumer review available. Be the first to
Rate it
!
More items from this seller
Email Enquiry
This enquiry will be sent directly to the seller.
*
indicates compulsory field.