BlackVue DR590X-2CH Full HD WiFi Honda Shuttle 1.5G CVT 2017 Car Camera
$388 – $448
Posted on: 19 Mar 2023 | Updated on : 19 Mar 2023
Merchant information
(104 Reviews)
2 Kaki Bukit Avenue 2 #01-32 Kaki Bukit Autohub S(417921)
9am - 7pm (Mon - Sat) Sun & PHs by Appt only
92724879 67453266
Ad information
2017 HONDA / SHUTTLE 1.5G CVT installed Blackvue Camera DR590X-2ch at SBA 😁 🙏🏻 🙏🏻🔥🔥!!

☎️ For all enquiries & appointments, please WhatsApp us https://wa.me/6592724879 your name , contact and leave us your message so we will get in touch with you at your convenient timing asap.
We look forward to serve everyone 🤗 😁

Kuddos to our specialist for your great ideas and efficient repair.
•Monday to Saturday: 9am to 7pm.
•Sunday/ Public Holiday: 10am to 4pm- By appointment.

Address:
2 Kaki Bukit Ave 2 #01-32 Singapore 417921. AutoHub.
https://goo.gl/maps/uoNezbdeyiR2

Be safe, wear mask, safe distancing, wash hand often & exercise to stay fit 😁
Let's all Pray Hard to GOD to protect our friends , customers, colleagues, our relatives & our love ones.

May GOD Bless and Help us to Clear COVID19 soonest🙏🙏🙏

#vaitrixsingapore #throttlecontroller #piggyback #ECU #Methanolinjection #FuelSaver #improvePickUpPower #ECUTuning #Carspeed #Decarbonize #AccidentReporting #Gearbox #Overhaul #Diagnostic #CheckWheelAlignment #Tyres #sportsRims #AccidentClaims #InsuranceClaims #AccidentRepair #PanelBeating #SprayPainting #AirConRepair #Carservicing #vehiclemaintenance #CarAirConService #CarRental #CarDealership #caraccesories
For more information, please visit www.1969sba.com.sg or email us @ s[email protected]

Blk 2 Kaki Bukit Avenue 2 #01-32 Kaki Bukit Autohub S(417921)

Remarks:
Above offer is exclusive for sgcarmart promotion.Please call or PM sms us for further enqueries. Promotion is not valid with other promotions, discounts, offers, privileges and vouchers.

We accept payment method in the form of CASH / NETS / VISA* / MASTER CARD*
*Major Credit card & instalment plan 6 / 12 / 24 months. * Terms & conditions apply.
============================================================


SBA - Your Trusted 1 Stop Auto Shop.

About Sung Beng Auto 
24hrs Hotline 81890680 / 92724879 / Accident / Emergency / Breakdown / Towing / Battery & Tyre Service.
With more than 40 years of experience in the automotive industry, Sung Beng Auto Group at EAST workshop provide a total complete one-stop professional automotive servicing & repairing workshop to all car owners , you can rest assured that your ride is in safe hands with the right prices.

Testimonial / Reviews

https://www.sgcarmart.com/directory/merchant_reviews.php?MID=11157

www.1969sba.com.sg/reviews/

==================================================================

Tyres & Rims (New/ Used /Trade-In/ Import / Export) Enquiry - 93838807

==================================================================

24 Hours Towing, Accident Assistance, Emergency Hotline: +65 81890680.

=================================================================

Contact us & Our Outlets are :

Free Ample Parking:
EAST Workshop,
Accident Claim, Spray Paint, Panel Beat, Repair & Servicing
Blk 2 Kaki Bukit Avenue 2 #01-32 Kaki Bukit Autohub S(417921)
Tel: 67453266. Open Daily From 9am (Monday-Saturday)
Alternate Sun/Public Holiday (By appointment)

===================================================================

Workshop Enquiry - Continental & Japanese Makes. Please call us for an Appointment & Quotation.

Engine Servicing & Repair, Air-con Services, Accident Repairs, Insurance Claims, Accident Reporting, Spray Painting, Panel Beating, Body kit, Wheel Alignment, Engine OBD Diagnostic Check, Performance Upgrade, Tuning, LTA Inspection, Insurance & Road Tax Renewal, Alarm, Accessories, Car Camera...

==================================================================


Car Rental, Used Car Dealer Buy, Sell, Trade-In, Service Scrap Car, Export, HP Loan, In-House Financing, Credit Card* Installment Plan.

==================================================================


Thank you
Ad information
2017 HONDA / SHUTTLE 1.5G CVT installed Blackvue Camera DR590X-2ch at SBA 😁 🙏🏻 🙏🏻🔥🔥!!

☎️ For all enquiries & appointments, please WhatsApp us https://wa.me/6592724879 your name , contact and leave us your message so we will get in touch with you at your convenient timing asap.
We look forward to serve everyone 🤗 😁

Kuddos to our specialist for your great ideas and efficient repair.
•Monday to Saturday: 9am to 7pm.
•Sunday/ Public Holiday: 10am to 4pm- By appointment.

Address:
2 Kaki Bukit Ave 2 #01-32 Singapore 417921. AutoHub.
https://goo.gl/maps/uoNezbdeyiR2

Be safe, wear mask, safe distancing, wash hand often & exercise to stay fit 😁
Let's all Pray Hard to GOD to protect our friends , customers, colleagues, our relatives & our love ones.

May GOD Bless and Help us to Clear COVID19 soonest🙏🙏🙏

#vaitrixsingapore #throttlecontroller #piggyback #ECU #Methanolinjection #FuelSaver #improvePickUpPower #ECUTuning #Carspeed #Decarbonize #AccidentReporting #Gearbox #Overhaul #Diagnostic #CheckWheelAlignment #Tyres #sportsRims #AccidentClaims #InsuranceClaims #AccidentRepair #PanelBeating #SprayPainting #AirConRepair #Carservicing #vehiclemaintenance #CarAirConService #CarRental #CarDealership #caraccesories
Merchant information
(104 Reviews)
2 Kaki Bukit Avenue 2 #01-32Kaki Bukit Autohub S(417921)

9am - 7pm (Mon - Sat) Sun & PHs by Appt only
92724879 / 67453266
Posted on: 19 Mar 2023 | Updated on : 19 Mar 2023
Features & specs
BlackVue WiFi Dual Full HD Dashcam with Sony's STARVIS image sensor.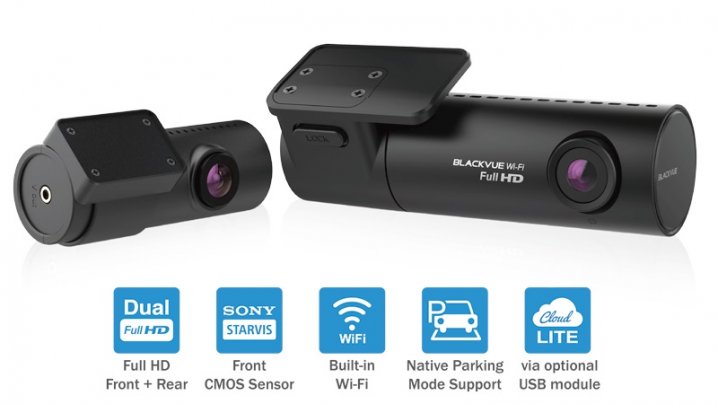 Front and Rear camera with Full HD (1920 x 1080 @30FPS)
SONY STARVIS Image Sensor (front)
139º wide view angle
Night Vision
WiFi built-in
Adaptive Format Free
Scheduled Reboot 
Support up to 256GB microSD card
Support Parking Mode with Impact and Motion Detections
Support optional LTE module for Cloud Connectivity
Support Native Parking Mode (with optional hardwiring cable)
Dual-Full HD WiFi Dashcam

DR590X-2CH: Dual Full HD (1920×1080 @30FPS) / View angle: 139 degrees.
With the front camera's Sony STARVIS imaging sensor, you get awesome image clarity day and night.
Built-in Wi-Fi: connect to your dashcam with the BlackVue App to adjust settings, check the view from the cameras or transfer files to your mobile device.
Night Vision

The Sony STARVIS image sensor that equips the front camera of the DR590X Series delivers outstanding low-light performance.
Additionally, it features Night Vision, which can be activated from the settings, further enhancing details in dark surroundings.
​Even with Night Vision OFF, the STARVIS sensor outperforms regular CMOS sensors.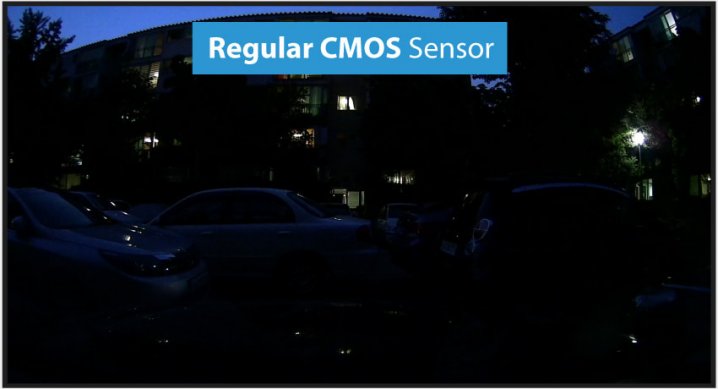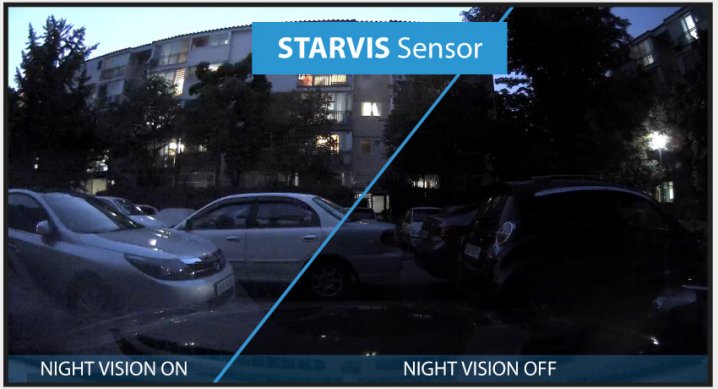 Built-in Impact and Motion Detection
MARK IMPORTANT FILES AND ENABLE PARKING MODE
​
Automatically tags important files
While driving, your BlackVue detects impacts and sudden changes in speed.
​While parked, it also detects movements*.
​
Videos files are marked accordingly so that you can easily find the relevant ones in the BlackVue Viewer for Windows and Mac OS or the BlackVue App for Android and iOS.
3 different recording modes (Normal/ Event/ Parking)
G-sensors (impact sensors) with individual axis customisable sensitivity settings
(*) For Parking Mode recording, an external battery pack (Cellink Battery) or optional Parking Mode Kits is required.
Intuitive BlackVue App & Viewer Software
​Connect to your BlackVue wirelessly with BlackVue App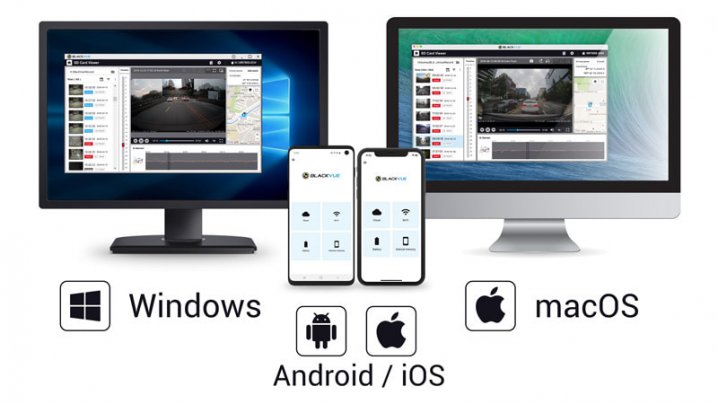 EASILY MANAGE YOUR SETTINGS AND VIDEO FILES
​
Both the BlackVue App and Viewer are free to download and use.
Free BlackVue Viewer for both Windows and Mac OS
Free BlackVue App for both iOS and Android OS
They let you easily change your BlackVue configuration settings and browse through your videos in an intuitive way.
With the BlackVue App, connect to your BlackVue in Wi-Fi to access files and check real-time Live View for easy setup and positioning of your dash​cam. In case of an accident, download the video proof on your mobile and visualize it on the spot.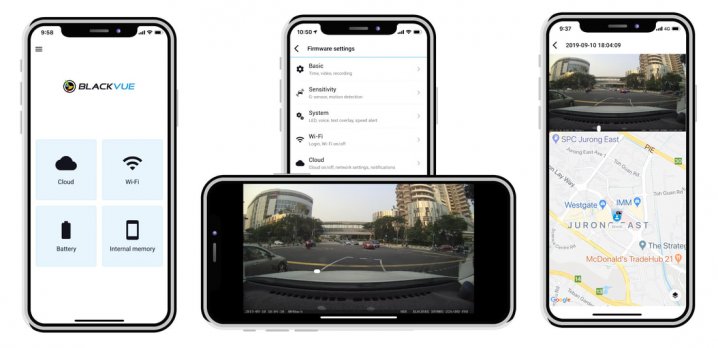 How does BlackVue App works?
Loop Recording and Adaptive Format Free

Event Files Overwrite Protection: dashcams record in a loop, overwriting older files when the memory is full. BlackVue can prevent Event files (triggered manually or by impacts) overwriting. Up to fifty (50) files can be protected this way. You can choose to allow new Event files to overwrite past Event files, thus keeping the latest fifty.
Adaptive Format-Free File Management: this BlackVue-developed file system improves recording stability and requires less microSD card formatting.
SD Card Failure Alert: your BlackVue detects as soon as the microSD card fails and warns you with a "Please check SD card" voice alert.
Scheduled Reboots (see Parking Mode section below)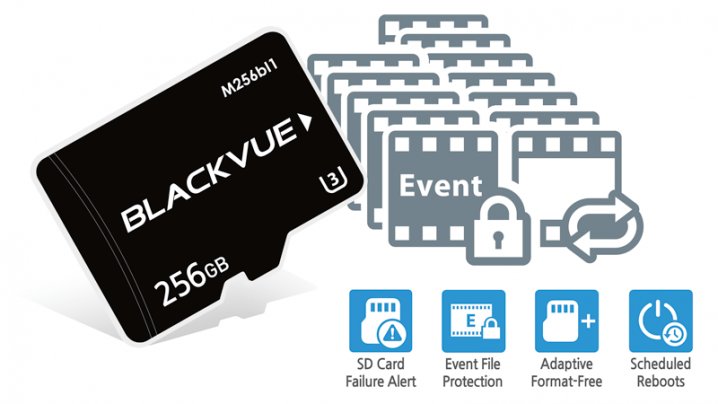 Built-in WiFi and Optional Connectivity
Built-in Wi-Fi:
DR590X Series features built-in Wi-Fi to let you connect with the BlackVue App. A button lets you turn Wi-Fi on/off.
Additionally, you can configure the Wi-Fi activation behavior in the settings (Auto Turn On, Auto Turn Off).
​
USB port:
The USB port lets you connect a GPS receiver or LTE-M and GPS receiver combo module.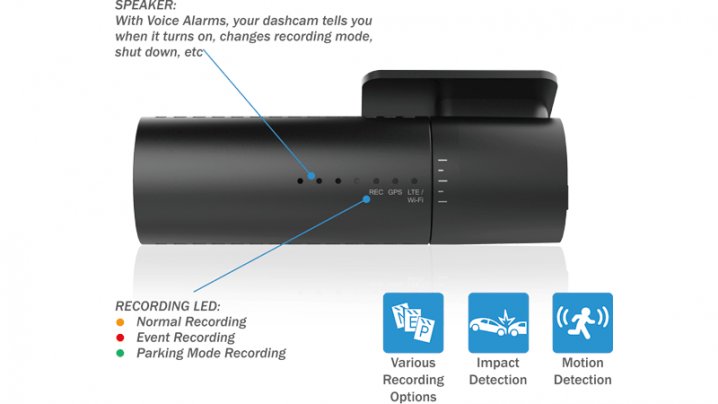 High Temperature Cut-off
HIGHER HEAT ENDURANCE​
Endures higher operation temperature than earlier models
Automatically cuts off the operation when temperature reaches 70 degree Celsius.
Protects the product from the harm of over temperature.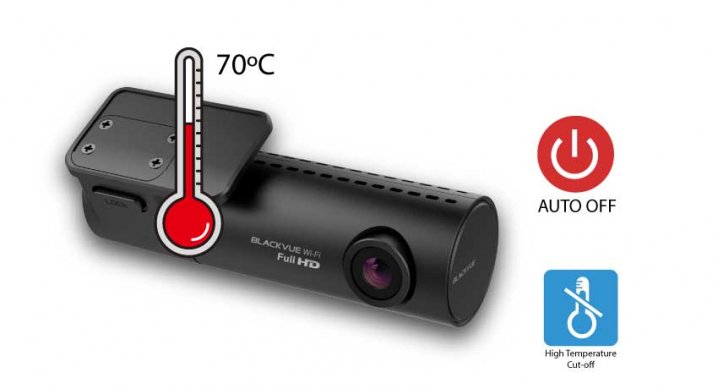 Native Parking Mode

With optional Hardwiring cable
DR590X Series can be hardwired to your vehicle's fuse panel for Parking Mode, without requiring optional accessories. The dashcam will switch to Parking Mode automatically when vehicle ignition is turned off. Voltage cutoff and timer can be set in the BlackVue App.
Parking Mode accessories support
DR590X Series is also compatible with all BlackVue Parking Mode Kits and Batteries.
Disclaimer: Vehicle battery life and performance maybe affected which lead to premature failure especially with frequent short driving. Not compatible with some continental vehicles which may triggers dashboard error. Not recommended for most new vehicles under warranty due to agent restrictions.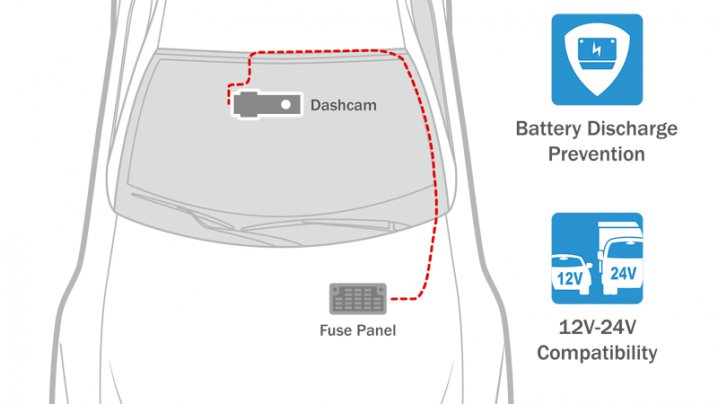 Parking Mode Support
Peace of mind with extra security when you are away from your car
The DR590X Series is compatible with Parking Mode. In Parking Mode, your dashcam monitors your parked vehicle, recording videos when it detects movement or impact. It also includes the few seconds before the triggering event, thanks to buffered recording. You will need a 3-wire Hardwiring cable or Cellink Battery to enable this feature. Find more info about Parking Mode here (link opens in new tab).

Parking Mode Event Voice Notifications:
Upon exiting Parking Mode, your BlackVue tells you if Events were recorded when you were away from your car, so you can check right away the Event videos on the BlackVue App.
Push Notification:
​If your dashcam is connected to the Cloud LITE Service, you will receive instant push notification to your smartphone if there's an impact detected when you're away from your car. ​
​* requires optional LTE Connectivity Module
Super stealthy:
Completely turn off all LED indicators in Parking Mode. Only the recording LED indicator facing the interior of the vehicle will blink when motion or impact is detected.

Scheduled Reboot:
Schedule a daily automatic reboot (optional—by default at night) to minimize potential errors. Reboots happen only if the dashcam is in Parking Mode and not writing data to the microSD card. This means no Normal driving, Event, or Parking Mode recording can be interrupted by a scheduled reboot.
Technical Specifications:
Model Name: DR590X-2CH
Type: 2 Channels (front and rear camera)
Highlights: Full HD (Front + Rear), Cloud, Wi-Fi, External GPS (optional), Sony Sensor, External LTE Module (optional)
Product Dimensions:

Front: W 111.8 mm  x H 34 mm / 87.8g

Rear: W  67.4 mm  x H 25 mm / 25 g

Rear Camera Connection: Analog cable
Memory support: MicroSD card up to 256GB
Recording Mode

• Normal,

• Event (Impact Detection / Speed Limit / Manual),

• Parking Mode (Impact + Region-based Motion Detection, Time Lapse + Events)

Parking Mode: Yes (with 3-wire hardwiring cable included) using power from car battery or optional Cellink Battery is fully recommended.
Parking Mode Event Voice Notifications: Yes
Imaging Sensor:

Front: Sony STARVIS CMOS Sensor (Approx. 2.1MP)

Rear: CMOS Sensor (Approx. 2.0MP)

Viewing Angle:

Front: Diagonal 139°, Horizontal 116°, Vertical 61°

Rear: Diagonal 136.8°, Horizontal 111.3°, Vertical 57.5°

Resolution Frame Rate:

Front: Full HD @30fps

Rear: Full HD @30fps

* Frame rate may vary during Wi-Fi streaming.

Video Codec: H.264 (AVC)
Image Quality and Bitrate Front/Rear:

Highest: 12+10 Mbps

High:        10+8 Mbps

Normal:   8+6 Mbps

Format Free: Yes (Adaptive)
Event File Overwrite Protection: Yes
SD Card Failure Alert: Yes
Scheduled Reboot: Yes
Video File Extension: MP4
WiFi: Built-in (802.11 b.g.n)
Cloud Compatible: Yes
GPS: External (Optional – Dual Band: GPS, GLONASS)
Microphone: Buit-in
Speaker: Built-in
Impact Sensor: 3-Axis Acceleration Sensor
LED Indicators:

Front: Recording LED, GPS LED, LTE/Wi-Fi LED, Front Security LED

Rear: Rear Security LED

Button: Button: Wi-Fi ON/OFF
Operation Temperature: -20℃ – 70℃
Storage Temperature: -20℃ – 80℃
High Temp Cut Off: Approx. 70℃
Backup Battery: Built-in supercapacitor
Input Power: DC 12V – 24V
Power Consumption Hour:

4.1W (Parking Mode when GPS Off and WiFi On)

3.6 W (Parking Mode when GPS and Wi-Fi are Off)

* Actual power consumption may vary depending on use conditions and environment.

Certifications:

Front: FCC, CE, RoHS, Telec, WEEE, IC

Rear: FCC, CE, RoHS, WEEE

Software:

BlackVue Viewer

* Windows XP or higher and Mac Yosemite OS X (10.10) or higher

Application: BlackVue Application (Android 4.4.2 or higher, iOS 9.0 or higher)
LTE: External via Connectivity Module CM100GLTE (Optional - Cat.M1)
Consumer Reviews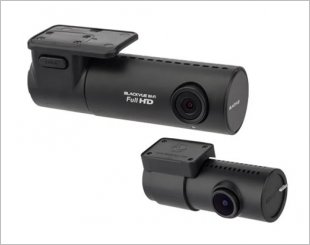 I had a positive experience with Blackvue and Auto Solution Pte Ltd. The installation process was quick and the staff was helpful in helping select and explained how to use the product. The wifi feature is a standout feature for me, and the Full HD video resolution is a great value. wishful thinking, it would be nice if Blackview had included a 128Gb card. - Michael, Owner of Nissan Qashqai SLB79--U
Reviewed by Mobile Reviewer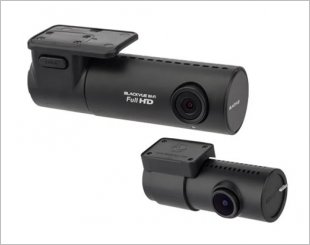 Very value for money. Image is clear and just need to download videos via WiFi connection. Does not need to remove SD Card at all. - Aw Poh Koon, Owner of Mitsubishi Attrage SLK39--D
Reviewed by Mobile Reviewer
More items from this seller
Violence V-Drive Chery A1 / A160 / A168 / A3 / A5 Throttle Controller
$188 – $330
24 Hrs Towing And Roadside Assistance
$35 – $180
Honda Accord Complete Bodykit
$750 – $950
Email Enquiry
This enquiry will be sent directly to the seller.
*
indicates compulsory field.