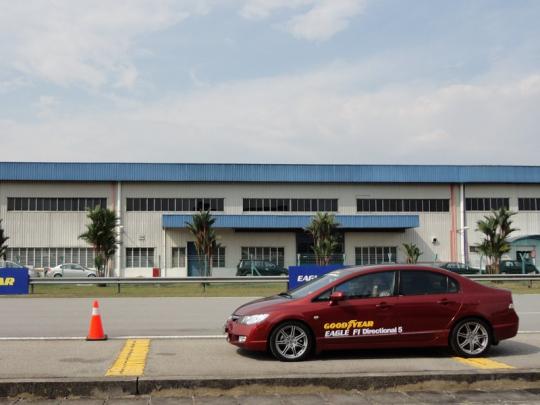 I attended the Goodyear Eagle F1 Asymetric 2 and Goodyear Eagle F1 Directional 5 over at the Proton Test Track in Shah Alam, Malaysia recently. The whole day event put me in a Honda Civic 2.0 & 1.8 sedans, a 320i and taxi rides in the same cars too. It was all good fun and part of Goodyear in creating more consumer awareness to the users in this region. I suppose events like these do, but this time I'd like to talk about grassroots motorsport, in particular, drifting.
So what has drifting got to do with the launch in the first place? Quite a lot. You see, the Eagle F1 tires, both in the higher performance Asymetric 2 and the Directional 5 are competent handlers. The participants was taken in taxi rides around the Proton Test Track banked oval track at speeds in excess of 150km/h and the tires handled very predictably.
Even through the high speed chicanes and banked corners ( both taken at over 145km/h in either a Honda Civic 2.0 & 1.8 sedan, BMW 525i or a BMW 320i) you can tell that the only person really worried was the passenger who had too much for lunch and wanted to keep its contents in the stomach instead of all over the floor of the cars (basically yours truly and a few other people who long ago realized that they are mortal instead of otherwise). The cars shod with the Eagle F1s handled well and even from the passenger seat you can tell that the drivers weren't at all worked up taking the corners and chicanes at speeds above 140km/h. This would mean that high speed lane changes and emergency maneuvers will not cause the cars to lose control. Unless you are a total twit, that is.
Anyway, these are high performance all-weather tires and being Goodyear tires, they are not really cheap rubber. Everything has a place in the price structure of tires sold and there are cheap ones and slightly pricier ones (that actually give you that extra 5-10% of grip or handling when you really need it). Anyway, since the Eagle F1s are actually on the higher echelons of tire prices, what got me wondering is the fact that if you are into grassroots motorsport like drifting, you would be broke faster than you can say "Goodyear Eagle F1 Asymetric 2" out loud.
I should know. As after watching the Goodyear Drift Team run rings round the Proton skid pad for about 5 or so minutes per car. The team had two sessions, one the day before and the one which I attended and both exhibition sessions were less than 5 minutes long per drift car. By the end of the session the rear tires were totally spent. The front tires look new but the rears were gone. Strings of rubber as well as chunks were missing from the rear tires. It looked worse than the tires that I usually go through every 10 or so months and it is this fact that made me realize that the sport of drifting is actually ridiculously expensive to the beginner even if drifting is actually considered as grassroot motorsports.
Now if you entered a drift competition and went up against these guys you would have to come up with a lot of tires. These sponsored teams would get at least a few sets of tires every few races while those without any sponsorship would have to fork out thousands for proper rubber. Those that enter drift competition on a budget (a.k.a hunting for second hand tires at all the tire shops that they can think of) usually do not end up performing so well as those that have been sponsored.
So while it may be fun oversteering that old Toyota or Nissan around some drift course it actually is a killer to your pocket. Of course one has to start somewhere but its going to cost you a whole lot of tires until you do get noticed.
May I suggest Time Attack or Gymkhana for affordable motorsport competition? You could enter your bone stock Suzuki Swift or in the photo below, a BMW 320i and still win something. Unless you're me and get a little lost around the cones. I actually have the tendancy to get lost around a small time attack circuit. The James May "Captain Slow" (of
Top Gear
) syndrome you might say.

malaysia

,

motoring

,

motorsports

and 17 more...
Viewed: 1,117 times