Recently Lamborghini announced that a new 17,000 square meter photovoltaic or in layman's terms a solar panel energy producing system has been installed and officially inaugurated at Sant'Agata. We all know that this is the manufacturing center of Lamborghini and is basically the heart and soul of Lamborghini. This photovoltaic system together with other environmentally friendly processes integrated within Sant' Agata will enable a reduction in CO2 emissions of 30%, equal to more than 1.067 tons per year for the Lamborghini company as a whole.
This environmentally friendly operation affects important areas of the business: the production plant, sales offices, the customer service department and the design center (Centro Stile), occupying a total area of 17,000 square meters, equivalent to more than two football pitches.
According to the immaculately dressed Stephan Winkelmann, President and CEO of Automobili Lamborghini S.p.A., the company; "
will carry on down this road, and are evaluating activities which will lead, in the future, to a remarkable 50% reduction in the factory's CO2 emissions. This will go hand-in-hand with actual product development, where our goal is to reduce emissions by 35% by 2015."
Started in 2007 and finished on schedule at the end of 2009 by Spanish group Gestamp Asetym Solar s.l., a leader in the field of renewable source investment, and Sinergia Sistemi S.p.A., an Italian market leader in energy saving services, specializing in civil and industrial energy management and large system creations which exploit renewable sources, the launch of the photovoltaic system marks an important energy improvement project; it has a total power output of 1.4 MW, producing green energy of 1,582 MWh/year with a 20% reduction in emissions. A further 10% reduction was obtained by applying a thermal insulation cover to the entire roof of the production facility, the introduction of domotics for lighting and heating systems and the use of warm air destratifiers. Furthermore, a counter at the factory entrance provides a real-time display of the kilowatt hours of electrical energy produced and the effective amount of kilograms of CO2 saved.
Of course, you may now ask whether a green factory that ultimately manufactures supercars that aren't that green or environmental friendly in the first place is one way of being responsible to the environment. There is some irony to this fact.
Of course, the reasoning behind this is the fact that while you are building gas guzzling supercars you can at least build them in an environmentally healthy environment and that in a somewhat green environment the Research and Development department has amassed an internationally recognized expertise which allows it to achieve objectives that are only possible through the use of innovative technologies and materials such as composite materials and carbon fiber so that Lamborghini research focuses on:
• reducing the weight of the vehicles mostly via carbon fiber utilization in the vehicles;
• improving combustion;
• reducing friction;
• integrating Start-and-Stop systems;
• hybrid transmission solutions; and
• biofuels
Which in turn supposedly make Lamborghini cars into more environmentally friendly tree hugging supercars.
According to the media release the first milestone achieved was with the Gallardo LP 560-4. The new technical solutions applied to this car enabled a reduction in CO2 emissions of 18%, and nearly 20% on the latest rear-wheel drive Valentino Balboni version and a 70kg weight loss in the LP570-4. These cars performance are thus improved with a decreased power to weight ratio, and a reduced total mass which means that CO2 emissions are also decreased.
Imagine that, a whole report on responsible supercar manufacturing. Concepts like this would not have existed 10 years ago. In those days, we concentrated on making the product as environmentally friendly as possible, now these companies are announcing a holistic concept towards a certain product. I wonder if it's the same if you build an atomic bomb in a green and environmentally friendly factory, then use it to kill a zillion or so people would it be killing people in a greener and friendlier tree hugging way? Okay, I may be exaggerating. A little. As any Lamborghini that's lighter and faster due to weight loss and burns less petrol is a very good thing. But it is only a good thing if I can afford the darn thing in the first place if you get my drift.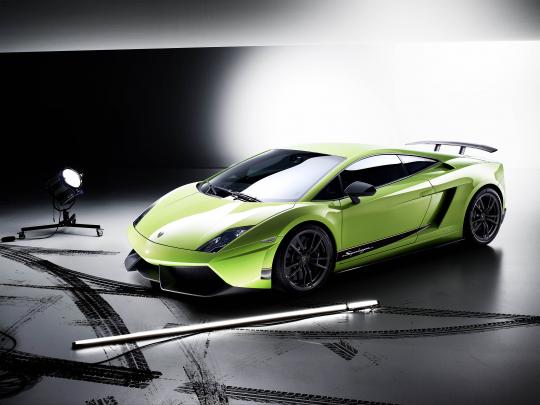 - a green supercar, the LP570-4

Lamborghini

,

green

,

solar panels

and 4 more...
Viewed: 722 times