Another Russian oddity - Cop Vs Scooter!
How do you feel when you see VW rims on Skoda?

22 members have voted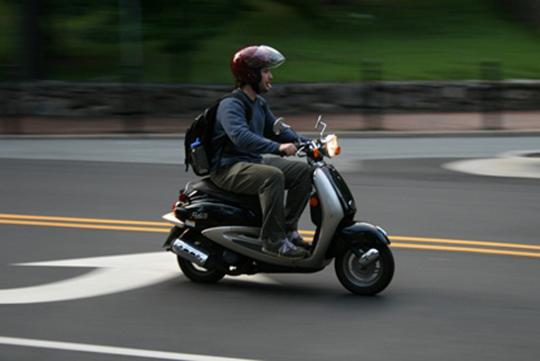 I bet you don't get to see that much when a traffic police officer goes against a scooter running at what seems to be a full speed. Honestly, it's the first time I stumbled upon such an occasion. But again, as I mentioned in the title, this is another Russian oddity. In case you haven't noticed, the Russians seem the best to go for when you're looking for some odd mishaps - you might want to check out this Hummer video as well.
There's no exact word on what reason the police officer had in mind when he intended to stop the scooter. Most likely, though, the scooter rider had violated some traffic laws. Nevertheless, it seems that the Russians should teach their police officers a better way of stopping someone, especially one who's driving or riding on a vehicle.
So, thing is, the police officer tried to stop the fast running scooter head on and I fail to figure out why this method seemed preferable to the officer in question. It's out of the question that this might as well lead to death or, at least, massive body injuries (you can see the officer finding it hard to get up in the video). Fortunately, the police officer didn't cause the scooter rider to lose his life. Had he done so, instead of enforcing the law, he would have had to go to prison.
You know, instead of trying to tackle the scooter head on, the police officer could have achieved the very same result - yet with less risk of injuries, at least to himself - by stepping away from the scooter and kicking it hard sideways, preferably into the vehicle's front wheel. In that way, the runaway rider would be likely to lose his front wheel and would have been the only one to suffer from injuries. The officer, on the other hand, wouldn't have suffered from any at all and would still manage to stop both the scooter and the rider quite effectively. However, again, you can see in the video that, thanks to the officer's weird and ridiculous decision (at least so it seems to me), it happened the other way round. The scooter rider seemed unscathed at all while the officer, as I said earlier, could barely get back on his feet.