As taxi apps do battle, commuters win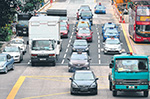 Singapore is embroiled in a raging taxi app war as taxi apps providers here - at least six and counting - race to slash charges, offer rebates and dangle incentives to woo commuters and drivers alike, while global investors fervently pump money into their chosen apps to grab more market share in this burgeoning space. (see infographic)
In just the past two days, two app companies announced major funding. Uber, the San Francisco- based service backed by notable US investors such as Google Ventures and Amazon's Jeff Bezos, raised another US$1.2 billion round that values it at US$41 billion. This comes after Vertex Venture-backed GrabTaxi snagged US$250 million in Series D funds, taking total funding to some US$340 million. Meanwhile, Rocket Internet's Easy Taxi and London-based Hailo - both with a presence in Singapore too - have each raised some US$77 million.
"In the taxi-booking space, massive funds are needed to give free smartphones to taxi drivers, pay them commission to use the app, and pay commuters referral fees for recommending it to their friends. In this game of burning cash to gain traction, players will find it hard to win without a large war chest," Christopher Quek, director and resident mentor at Angels Gate Advisory, told BT.
"It's a battle for market share, and competition is ultimately great for the consumer," said Patrick Grove, co-founder of new media investment firm Catcha Group.
In Singapore alone, an average of 960,000 taxi rides take place daily, and some 28,000 taxis ply the roads, latest official figures show. From next year, the minimum percentage of taxis required on the roads will be increased to 85 per cent of each taxi operator's fleet, up from the current 80 per cent, the Land Transport Authority (LTA) said in November.
And leveraging this is UberTAXI, which has waived taxi-booking fees here for two weeks, letting commuters save up to S$3.30 per ride, an offer observers reckoned is one of the most attractive to-date.
Uber also provides weekly monetary incentives to drivers, including S$500 to those who complete 80 Uber trips or more in a week.
Not to be outdone, Hailo, in partnership with SMRT Roads, launched in October with free credits worth up to S$20 per ride for first users. It recently concluded a month-long lottery where five drivers had the chance to win S$888 weekly with every Hailo job.
This is all part of a business strategy to attract users, particularly in the initial stages when the apps first enter the market, said Andy Sim, a transport analyst at DBS Group Research. "At this stage, my sense is that commuters and taxi drivers are hopping from app to app in search of the best and most user-friendly deal."
But Jianggan Li, co-founder of Easy Taxi Singapore, believes that any advantage gained by incentives is short term; the real difference comes from day-to-day factors such as ensuring taxi availability and satisfactory service levels.
"Differentiation on taxi booking apps is limited . . . (at the end of the day), what commuters want are readily available taxis," agreed Mr Quek.
That all the players here basically match taxis with commuters notwithstanding, each of them claims a unique competitive advantage. For Malaysia-based GrabTaxi, it is its focus on South-east Asia and its positioning as a "hyper local company" that understands the specific needs of drivers and commuters in each of the 17 cities it operates in.
"There has been an urge to enter markets and disrupt the industry in order to provide the service; this is something GrabTaxi tries to avoid doing. When we entered Singapore, we immediately started to work with the LTA to ensure the service complemented and enhanced the existing industry," managing director Lim Kell Jay said.
Hailo's competitive advantage, said a spokeswoman, is its close partnership with local operators, drivers, events, charities and businesses, making it the first third-party app here to partner a local transport operator, while Easy Taxi points to its Easy Taxi Corporate feature, which allows companies to manage employee taxi rides entirely via the app. "It is gaining good traction and we're hiring more salesmen to cope with the demand," said Mr Li.
For Uber, whose drivers are known for their outgoing and chatty personalities, it said it's the only solution that has Singaporeans covered for all occasions. Aside from UberTAXI, there is UberEXEC, which offers rides in luxury cars such as the Mercedes-Benz E-Class and BMW 5-Series, and UberX - the lower-cost version of UberEXEC which features vehicles such as the Toyota Corolla and Nissan Sunny.
"Uber is also making the entire transport experience completely cashless and hassle-free . . . nothing short of magical. Commuters don't need to carry the right amount of cash or worry about whether the credit card machine in a taxi is working or not. Upon reaching his destination, he simply gets out of the car and goes on his way," said Uber's regional manager Michael Brown.
Meanwhile, commuters - the ultimate winners - should enjoy this while it lasts, industry watchers said, predicting that the market will eventually gravitate towards a few key players who are able to survive the costly price war.
"I believe in the end, each market will have two key players, and different markets may have different winners," said Mr Grove, "So some companies are willing to launch into multiple markets, see what happens, and then scale back to fewer markets if they do not get traction."
That could be a reference to Hailo, which pulled out of North America in October after less than two years of operations, citing "astronomical marketing spend" and difficulty in turning a profit. The company said it would focus instead on expanding into new cities in Europe and Asia.
"Indeed, it is the survival of the fittest, and deepest pockets. How long the taxi app war is going to last will depend on how deep the pockets are for these companies," DBS' Mr Sim said
In fact, the biggest losers in the taxi app war may just be call centres - such as those run by ComfortDelgro and SMRT - which will see a severe drop in call demand with the shift towards taxi-booking apps, said Mr Quek. After all, why would cab drivers and commuters use call centres when the apps are rolling out incentives and more?
This article was written by Jacquelyn Cheok, writer for The Business Times .