Meet the most powerful 911 ever: the new 2017 Porsche 911 GT2 RS
Entry posted by Deeq ·
4,990 views
Just when you thought the most extreme 911s couldn't get much faster, along comes Porsche with a 700 horsepower machine.
The excess-all-areas sports car was unveiled at the 2017 Goodwood Festival of Speed by works endurance and former F1 driver Mark Webber.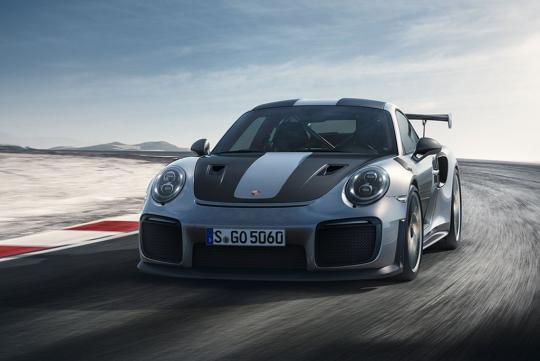 The specs are pretty heady for the most focused 911 yet. In case that (metric) horsepower figure didn't tell you all you need to know, this is the most powerful roadgoing 911 of all time; no wonder it'll dispatch the century-sprint in a torso-crushing 2.8 seconds....
Key spec figures for the GT2 are:
Engine: 3.8-litre twin-turbo flat-six
Power: 700hp, or 690bhp
Torque: 553lb ft
0-100km/h: 2.8sec
Top speed: 339km/h
Kerb weight 1470kg
It's dripping with special touches: the exhaust is made from ultra-lightweight titanium, to chop 7kg from the bulk of a 911 Turbo's breathing apparatus; four-wheel steering features for added agility; and there's a smattering of carbonfibre to chop weight down to 1470kg.
You can tell the new 911 GT2 RS is an extreme race car for the road, rather like its predecessor; the huge vents in the bumper and front wings, massive brake calipers and rear wing make sure of that. Dan Greenawalt from Turn10 said the GT2 RS 'features the most powerful roadgoing 911 engine ever made.'