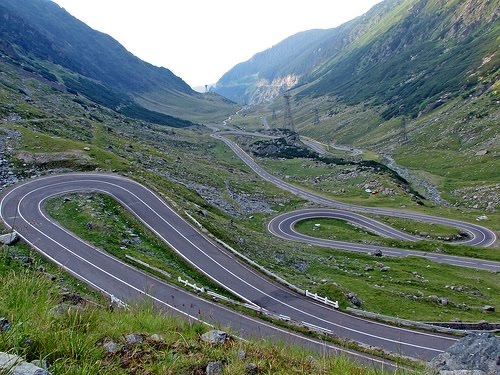 I wish we had a road like this to cruise on!
When was the last time you went for an aimless cruise with no destination in mind; just to enjoy a pleasant drive in your precious car
in Singapore
? (No, your overseas driving holidays don't count!)
Personally, I can't remember exactly the last time I did it. I think it was back in the 1990s when I was still a passenger rather than a driver. Those were the good old days when there were fewer cars on the road and petrol was cheap. Driving around Singapore could still possibly be a pleasant activity.
Now, I sit in front of the wheel instead of in the rear seats. And I really enjoy driving my car. But yet, it hasn't ever crossed my mind to go for a long leisurely cruise in it ever. I would drive it to more and further places but I wouldn't go for a drive just for the sake of it. It just seems so ... wasteful. Ignoring the implications it would have on wasted petrol and correspondingly my monthly petrol bill, such an activity is so extravagant because so much time is consumed. With the hectic lifestyles that we lead to support our cars during the week, any down time in the weekends tends to run out with the gamut of activities that just crop up.
A quick survey of my driver friends (the "rounding" crowd excluded) reveals that most of them have stopped indulging in such an activity; even if they used to do it before. And another quick survey of my biker friends (unfortunately, few and far between) reveals the exact opposite picture. So what exactly is the difference? Is biking more pleasurable? Is it easier on the wallet? Or does biking attract folks with a more relaxed attitude to life?
Meanwhile, excuse me while I punch an entry into my to-do list on my phone - go for a long pleasant drive. Any suggested routes, people?

motoring

,

singapore

,

driving

and 3 more...
Viewed: 844 times