Every now and then we would hear some news about a rather unknown automotive company introducing their exotic super sports car. Some companies eventually made their prototypes into production models, such as the Pagani Zonda, Bugatti Veyron, etc. and many others did not even go past the planning stage and their ideas and plans just got lost into oblivion. Now, a French design company, Genty, plans to build a car that will beat the Veyron in terms of speed. It is named the Genty Akylone.
Around four years ago, the company planned to produce a lightweight supercar. First of all they designed a chassis that was mainly made of carbon fibre and aluminium. As the development goes by, every unnecessary item were omitted out and only the essentials were left in placed. With all these weight saving measures taking place, the car weighs around 1200kg, with a weight distribution of 58% at the rear and the rest at the front.
The car will have a mid-mounted twin turbocharged 4.8 litre V8 engine, powering the rear wheels, plus a 7-speed sequential transmission. Genty did not reveal whether they are going to develop an engine for this project or they are going to use one from another manufacturer. Power wise, it is rumoured to be just over 1000bhp and 1198Nm of torque with a top speed of 354km/h.
With a lightweight body and a powerful engine, the Akylone is expected to do 0-100km/h in just 2.7 seconds, 0-200km/h in 7.2 seconds and 0-295km/h in 14 seconds. In addition, a 9.8 seconds timing for the quarter mile sprint is also expected. In order to prove these timings, Genty will test the car at Nurburgring once it is ready.
Exterior wise, the car will have scissors doors, rear diffusers, LED lights (front and rear) and a sporty, aggressive front snout. While the interior still looks conceptual, it will get sports seats and the latest gadgets a supercar would normally have.
Pricing has not been confirmed yet and Genty plans to build 15 units for the Akylone which they will premiere it at next year's Paris Motor Show.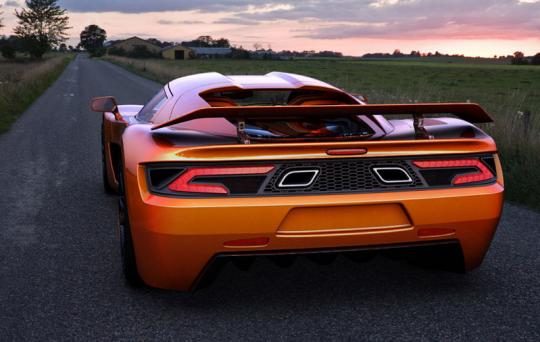 A combination of its weight, horse power and torque will give the Bugatti Veyron a run for its money. But until a running prototype is released and tested, we can only wait and see how this will turn out.
Photo credit: Left Lane news and Motor Authority

new model

,

france

,

super car

and 7 more...
Viewed: 1,411 times