This is piece of tuning history that I feel is quite interesting for classic Mercedes enthusiasts or those who wants to know a bit of Mercedes tuning over the years.
Sometime last year Lorinser celebrated the 'wild 70s' with a press release on the Lorinser tuned 1970s Mercedes Benz W116 series 450SEL 6.9. This grandaddy of the current S-Class is a forefather to all of those Mad Mercedes-AMGs out there running extremely large capacity engines like the current S65 AMG or the E63 AMG. This Lorinser W116 also shows how long the firm has existed and how long enthusiasts have been tuning Mercedes Benzes.]
The W116 450SEL was famous in its day for being a Q-car, or something totally stealthy. No one expected this conservative looking German sedan to have a 6,834cc V8 engine that was dry sumped (like a racing car) and had 286bhp with a massive 550Nm of torque. The large 1985kg car was able to hit 100km/h from a standstill in 7.4seconds equipped with a 3 speed automatic gearbox. This was really impressive at a time when most 3.0liter engines only made about 150bhp and even some sports cars of the time struggled to cross 8seconds.
I had the opportunity to hear this exact model roar as a mint condition model happened to cross paths with one a couple of years back. The V8 is a traditional muscle car burble that somehow seems slightly out of place in a Mercedes Benz. But somehow that made it even more impressive. A muscle car in drag.
This car, with its double chrome bumper was the status symbol of its day (
standard car pictured above
). It is also a cult car that was actually used by many millionaires of its day. So much so that even in the 1990s when John Frankenheimer wanted to do a movie that had a lot of chase scenes, this was the car of choice. Watch the 1998 movie
Ronin
and see why.
Now even in those 'innocent' 1970s there were motoring enthusiasts interested in tuning up these cars. Even then, the mighty 450SEL 6.9 was a, shall we say, victim in the hands of these tuners. Sportservice Lorinser, as Lorinser was called back then offered a tuning package for this beast. While the original 6.9 was a typical 1970s car with chrome bumpers, the guys at Lorinser somehow made it look slightly more futuristic. By futuristic I mean it looked 1980s. A good ten years forward in terms of looks.
The chrome bumpers were replaced by front and rear plastic bumpers, with the large front traditional Mercedes grill integrated into the bumper's lines. The vents and the fog lights are fully integrated into the front bumper assembly and it is stated that the look Lorinser achieved may be partly responsible for the W126 S-class that became the W116's successor. The sides even took on side skirts but it didn't have the wrap round side mouldings like the W126 had.
This old fella looked like someone had taken bumpers from a W126 S-class and transplanted it to the W116. But in reality, it was one of the first attempts at a tuner making a factory based model look somewhat better than in stock form.
It also ran on 16inch BBS rims as those days Lorinser didn't have their own custom made alloy rims. They ran on 205/55/16 tires which in 1979 must have been a super duper low profile tire. By today's standards, slightly wimpy, and according to the press release, was still barely able to hold the handling of the car together (even with that rather small for its time Lorinser sports steering wheel). Even though it had a hydro pneumatic suspension setup to help it ride and corner well. But I wouldn't mind driving it slightly leisurely by braking early and letting that big V8 rumble away powering out of corners as soon as the car is straight. The noise and the sense of occasion would be enough.
In short, a truly fascinating car showing what motorheads used to do about thirty or so years ago.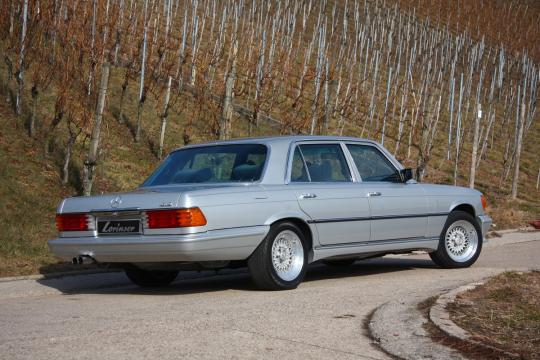 -Lorinser 450SEL 6.9 pictured with a pre facelift W221 Lorinser S-Class-


Mercedes Benz

,

Lorinser

and 3 more...
Viewed: 3,074 times