You would never think that a single plant could solve most of the world's problems, well it can. Hemp has over 50,000 uses, everything from clothes, medicine, fabrics, fuel and more, hemp is definitely a large threat to a variety of corporations that control energy, health and a number of other industries. Many corporations would see a decline in profit if hemp were to be legalised. One in particular is the automobile industry.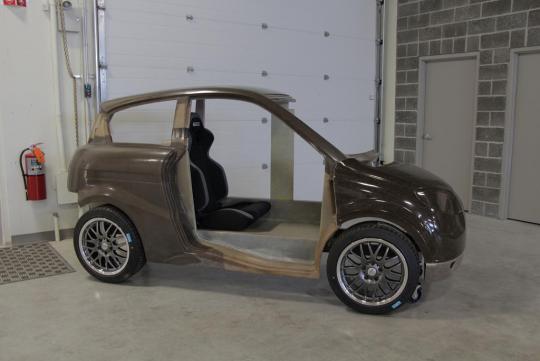 The world's most eco-friendly car, the Kestrel, was designed in Canada by Calgary-based Motive Industries Inc. Unlike the United States government, the Canadian government is open to hemp farming and actively supports the hemp industry and its potential benefit for us and our environment.  
The body of the car is completely impact-resistant and made entirely out of hemp. Now, when we think of cars, we think of gasoline, steel, pollution, etc. Even though we have had some innovative and visually pleasing cars on the road today, it is difficult to ignore the sheer environmental impact that modern cars create.  
The Kestrel's hemp composite body shell passed its crash test in excellent form. Unlike steel, the panels bounce back into shape after impact. Hemp also has the same mechanical properties as glass but is even lighter which help to boost fuel efficiency. The Kestrel has a top speed of 90km/h and a range of approximately 160km before needing to be recharged. It's powered by a motor made by TM4 Electrodynamic Systems, a Quebec based company.  
The car weighs in at approximately 1,134kg, and has a very affordable price, given the fact that hemp is very easy to grow and requires nothing but the sun. It fits four passengers and the production version of it was supposed to be available this year, but since the unveiling of it a couple of years ago, everything has become quiet.
eco-friendly

,

eco-friendly car

and 6 more...
Viewed: 3,908 times