A visit to TOP SECRET wasn't planned so it was a huge and pleasant surprise when I saw it along the way to the strawberry farm and asked to stop by. (I was in Chiba on the last day of my week-long trip to Japan.)
If you didn't know by now, TOP SECRET Performance Engineering is a Japanese car tuning company located in Chiba, Japan and is known for its GOLD trademark colour for its cars.
The boss Kazuhiko "Smoky" Nagata has been tuning and creating performance vehicles since the mid nineties. Initially his cars were green but apparently he was inspired by the Olympics gold medal and changed to gold instead.
His story is really interesting. He made a reputation for himself by repeatedly going behind bars for excessive speeding. He would tune and build monster cars and then take it onto the highways or public roads and whack 340km/h out of them. Unusual publicity stint but works well for both business and pleasure (his need for speed).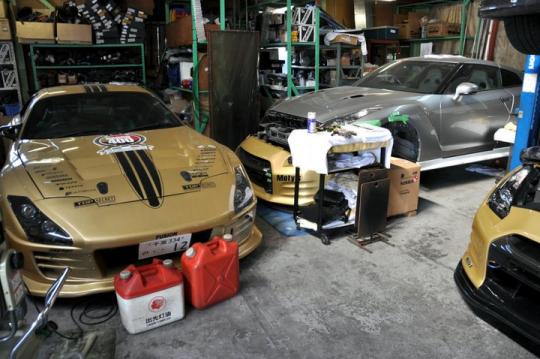 See the Supra on the left with the numbers '400' on the bonnet? This is the V12 twin turbo 1,000bhp car that Smoky hit over 400km/h with at a top speed challenge. How does one even dare to go at 400km/h?!
He not only got arrested for speeding in Japan, but also in the UK and in the US. That's called global marketing. ;)
I saw many gold cars inside the garage and also in the parking bay, a pity the row in front of the garage aren't all in GOLD!
My favourite is this:
I couldn't help taking so many photos because the car is just so SICK!
Anyway, other than Top Secret, I also visited Okuyama and Midori in Yokohama as well as attended the HKS Premium Day at Fuji Speedway followed by a tour of their huge facilities the next day.
Okuyama-san (right) and his son (left)
They are very good at constructing chassis and roll cages for cars and have secured contracts for one-make races in Japan.
At Midori, there were several Nissans sitting all around - especially the Silvias and Fairlady Zs - as that's what they specialise in.
Up close and personal with Hasegawa-san, the H of HKS, at the welcome dinner for HKS Premium Day.
Off to Fuji Speedway for HKS Premium Day next, where I got the chance to sit in a bus that took us round the track thrice. Stunning views!
While waiting for the cars to come around, I caught this shot of the setting sun.
Nice?
The R35 Time Attack Battle where famous workshops like Top Secret and ESPIRIT battled it out on the track.
I met Nobuteru Taniguchi at Fuji Speedway, previously having met him in Singapore, Malaysia and Macau too.
Off for a tour of HKS factory the next day immediately after HKS Premium Day, isn't that very tiring for them all?
We were shown around the suspension, shock absorber and muffler departments, but no photography was allowed so I can't share anything here with you unfortunately.
But I have to say, HKS is probably the largest aftermarket manufacturer of automotive parts. Gosh!
The sweetest part of my trip?
Eating fresh strawberries!
For more of Cheryl, read www.cheryl-tay.com.

top secret japan

,

okuyama

,

hks

and 3 more...
Viewed: 1,846 times