New Minis will be zipping around town this year. BMW owned Mini has announced a whole new range of engines for their new range of cars, most notably, the creation of the Mini One Convertible. The new Minis will feature improved petrol engines offering more power and torque without the usual drawbacks; meaning the environment will embrace the new engines as it has cleaner emissions and better fuel consumption. Minis have always been iconic, and now, with the new line-up, the leader of small hatchbacks is not looking to step down anytime soon.
Having a Mini always meant owning more than just a car. It becomes part of your lifestyle, part of what you wear like a fashion accessory. Predictably, Mini has come up with what they call 'unique Rainbow colour options' which basically just means every colour in the world can be used to paint that body of your Mini. The increased palette size will attract car-fashionists to the showrooms like moths being drawn to a lamp. There's even a new entry level Mini called the Mini First. It gets a 1.6litre, Valvetronic 4 cylinder engine, a stable of 75 horses on tap and an increase in torque by 17% from the old 1.4litre while the 'Valvetronic' is the key to the increase in torque and improved fuel consumption. The new Mini One should be contented with an increase in horsepower to 98bhp and a 0-100km/h time of 10.5seconds, and improvement of 0.4seconds.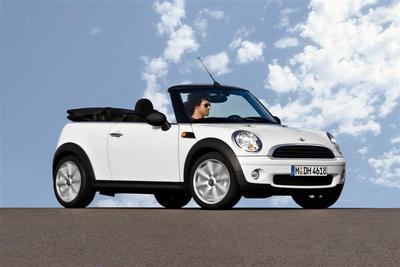 The biggest star in the new line-up will have to be the Mini One convertible. It used to be offered to only the people who have deeper pockets but now, it can be bought by people who used to buy only Protons. The One Convertible offers a lower entry point into the Mini Convertible variants and it has clever features too. The fabric roof opens and closes hydraulically even when the car is on the move, well up to 20mph. DSC stability control is standard, 4 airbags and even a rear roll bar which pops up in the event of a rollover.
The range topping Cooper S features a twin-scroll turbocharger, whatever that is, which aids the 1.6litre engine and produces a stunning 184bhp and a torque figure of 240NM from 1600rpm to 5000rpm which is virtually the engine tachometer. And the figures keep getting better. There's even something called an 'Overboost' which increases torque temporarily to 260NM for more grunt and 0-100km/h is dealt with in 7 seconds.
Minis will always be cool. They just got cooler.

mini

,

mini one

,

mini first

and 4 more...
Viewed: 539 times