The seven-speed dual clutch transmission system in the Bugatti Veyron is one tough component. And it comes to no surprise when Ricardo (the company that built the transmission used in the Veyron) has recently announced that they have extended their contract with Bugatti for another two years as it could be the only dual clutch transmission capable of handling huge power.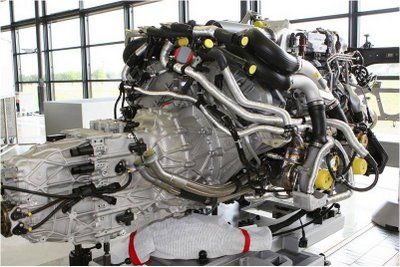 In fact, it was Bugatti who placed an order for a further two years of production of the advanced dual clutch transmission which was co-developed between them and Ricardo. The joint effort of designing, developing and manufacturing of the transmission system surrounds the transmission hardware, electronic control unit and its software.
This research and design effort enables the transmission to withstand huge amount of power that we already know the Bugatti Veyron is capable of. The transmission is used in the Veyron and all of its sub-models.
According to a Ricardo employee, they are pleased to see a further extension of the collaboration between them and Bugatti. And they look forward to two further very successful years in the story of this truly great automobile with its advanced Ricardo transmission
The Bugatti Veyron is the only model offered by the automaker currently and it was available since 2005. For the last seven years, the company has remained in existence with the Veyron alone but many felt that the car is approaching towards the end of its model life span.
Typically, when an automaker is phasing out a certain model, the company will tease us with a picture or two of how the next model will look like. But Bugatti is no typical car manufacturer and there is no news of a replacement model. So where or on what will Bugatti use these transmissions?
There are several rumoured possibilities. Firstly, Bugatti might use them in an all new Veyron sub-model and at the same time extend the model's line-up. Another example is the upcoming Bugatti Galibier which is a four-door super sedan and it is in the pipeline at Bugatti's headquarters in France. One final possibility is the stockpiling of the component for later use on new models that the automaker might surprise us with.
I feel that Bugatti has something up their sleeve that they do not want people, especially their rivals, to know and these order of transmissions is expected to be used for it. Only time will tell what Bugatti has to offer for us.
Photo credit: Net Car Show and motorengine.blogspot.com

new model

,

super cars

,

other news

and 11 more...
Viewed: 1,888 times