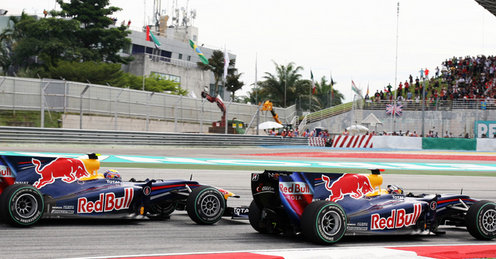 And Sebastian Vettel finally wins a race in 2010, after three Formula 1 GPs.
His win and Mark Webber's second place makes it a 1-2 finish for Red Bull Racing at the 2010 PETRONAS Malaysian Formula 1 Grand Prix in Sepang, Malaysia. This, after much frustration must be a joyous and fruitful victory for them. However, this time he did not start in pole position like he did in Bahrain and Australia. Third was pole sitter Nico Rosberg of Mercedes Petronas who scored the first podium for the team. This time there was some proper racing even without rain. Rain was supposedly predicted to fall around half an hour into the race did not do so. Maybe this was a good thing as Sepang is a track where you could find overtaking as some corners have different racing lines and if you remember Sepang last year, it was a total washout due to the rain and the late start caused made racing impossible as it was getting dark (which they brought forward to 4.00pm local time to avoid this from happening again).
It was an uneventful start in my opinion as there were no crashes or missing front wings after the first two corners. With Seb. Vettel and Mark Webber taking P1 and P2 after the start. Nico Rosberg of Mercedes Petronas was on pole lost out to both and had to settle for 3rd behind the Red Bull duo.
There was a good scrap early in the race between Lewis Hamilton and the Russian Renault driver V.Petrov. The fight for 10th at the time was pretty intense with Hamilton swerving left and right down the pit straight trying to contain Petrov behind him. Race stewards issued a warning for this but that was it. Aside from this, it was uneventful, with some race retirees including Petrov in Lap34.
For the Michael Schumacher fans, the seven time champion driving the Mercedes Petronas retired early in Lap10 due to a rear wheel/suspension problem.
At the start and for most of the race the Ferraris were pretty consistent in conducting damage control after having to start way back due to bad qualifying due to the rain on Saturday. This was even when Fernando Alonso had to drive around a faulty downshift problem.Felipe Massa even managing to overtake Jenson Button on Lap 44 at the straight to move up a position to seventh. However on the penultimate lap (55), Alonso trying to take Jenson Button as his teammate did blew the Ferrari's engine, taking him out of the championship points as well as making him lose his lead in the driver's championship to his teammate Massa. It was pretty good driving by Alonso, but using those extra revs may have been too much for the engine. At least we viewers get to see some racing instead of champions who play it safe.
The rest of the point finishers are:
Robert Kubica (4th) for Renault – surprisingly positive results for Renault as they have been pretty quiet since the Flavio Briatore crashgate scandal last year,
Adrian Sutil (5th) for Force India – making them one of the other (non-manufacturer teams) to keep track of,
Lewis Hamilton (6th) for McLaren Mercedes – starting from P20 with good driving in his part and that nice skirmish between Petrov and him in lap 10. Sutil however slowed down his charge and he had to stay behind him till the finish,
Felipe Massa (7th) for Ferrari – good damage control and fantastic results considering he started in P21.
Next in 8th was Jenson Button for McLaren Mercedes – who also started from way back in P17,
9th was Jamie Alguesuari for Toro Rosso and 10th was Nico Hulkenberg for Williams.
As for supposed 'hommies' Lotus F1, they had to settle for final race positions with Jarno Trulli and Heikki Kovalainen finishing last. Kovalainen suffered from hydraulic problems and finished 6 laps behind the leaders. He was told by his team to drive the car till it dies. It was the only thing to do with all of Lotus F1's major sponsors watching the cars from their VIP booth.
All in all it was a pretty interesting race. Quite tedious to watch at around lap 16 to 40 as I felt there wasn't anything really happening except for cars pitting to get their tires changed. Some positions changed during this period and I was contemplating of taking a short nap as nothing interesting happened. But I didn't, so I ended up reaching for more snacks and finishing that diet pepsi I opened at the start of the race. I was also contemplating a week earlier whether I should buy tickets to watch this live. With the telly showing it live and a nice comfy armchair to sit on, I chose this option as this was Sepang. I knew it was going to be either hot and extremely humid or extremely wet in the afternoons/evenings therefore uncomfortable. AND it is also a place where time seems to move slowly like you're in a time warp, unless you're actually doing something like driving on the track itself. I would rather watch the telly and only attend the qualifying (less people, same amount of energy and more time to sit and look at stuff around you). Or then again I was plain lazy.
Retirees
Glock - lap 3 - incident with Trulli
Kobayashi - lap 9 - engine failure
Schumacher - lap 10 - broken left rear suspension
Liuzzi - lap 13 - hydraulics
Petrov - lap 34 - technical
Alonso - lap 55 - engine
The next race - China, 18th April 2010.

Formula 1

,

F1

,

motorsport

and 10 more...
Viewed: 500 times