MRT Breakdowns - What should be done?
Entry posted by BenCee ·
1,318 views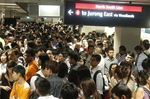 Although I don't really take public transport often nowadays due to my job, the recent chain of MRT breakdowns over the past week left me feeling appalled and disgusted.
For a country that prides itself on efficiency and having a world-class public transport system, having three major failures in a week when taxi fares were increased is purely and simply unacceptable.
What then, should be done to help Singaporeans restore faith in our Mass Rapid Transit rail system, which has seen its credibility sink faster than the Titanic?
For all the talk about punishing the operator with fines and getting the CEO to step down, what I feel should be done is something which will truly benefit all commuters.
SMRT should be made to lower their fares, as 'punishment' for the failures.
This way, commuters win, and SMRT will be sending out a strong message that it is not all about profits, and can greatly reverse its dreadful PR debacle (remember the "Income Opportunity" taxi message?) that has resulted from events from the past week.
Of course, there will be cynics who decry that it will never happen, but that doesn't mean that we, the paying public, should just sit around and be bullied into submission when our one and only rail network operator slips up so horrifically.
If enough people make enough noise, and some people put those words into action, maybe, just maybe, something will be done about it.
Let's just hope that things like these never happen again on our island.
I've said my piece and offered my suggestion. What about you guys?