With the Mercedes-Benz E200, you can't really go wrong with it
Another day, another review with sgCarMart! And today, we have the 2020 Mercedes-Benz E200 Exclusive!
One of the best sellers in the Mercedes-Benz range since its inception, the E-Class just keeps getting better and better, and being here in E200 guise, it still gives you the luxury and comfort you expect of a Mercedes-Benz.
If you thought the front fascia of the new E200 looked good, check out the side three-quarter angle. I daresay it blends the sleek and smooth lines with just the right amount of aggression into one great package.
With 194bhp and 320Nm of torque from an updated 2.0-litre turbocharged 4-cylinder mated with a nine-speed automatic transmission, I doubt many drivers are going to find a lack of power with the E200, especially when you're trying to overtake that inconsiderate driver hogging the first lane on the AYE. 0 - 100km/h comes and goes in 7.5 seconds. You're not going to break any speed records, but that is still brisk enough for Singapore traffic.
The sight of this 3-point star bonnet emblem never really gets old, does it. I daresay it is that one factor that really adds a debonair touch to any Mercedes-Benz that has it.
Like all newer Mercedes-Benz models, the E200 comes with two large screens at the front, one to display the car's information while the other is for infotainment purposes. I love how Mercedes-Benz is the only manufacturer who does this and it really gives a feel of airiness to the cabin.
And not to mention, the lovely contours and leather patterns on the seats.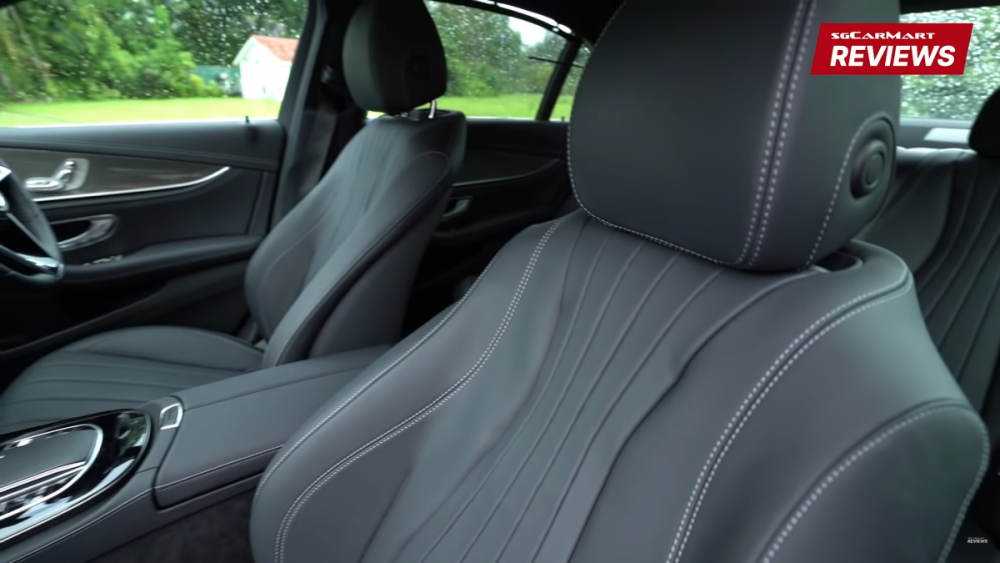 And if you still aren't convinced how much legroom the E200 has in the back, here's some proof. The seat has been adjusted to Jon's position, and Jon is about 1.8m tall. Just look at the amount of space Julian has to lounge in the back seat, enough to seat cross legged even! Oh, and let's not forget the in-built sunshades on the windows. Those will be useful in our sunny weather.
Electric tailgate as standard, wouldn't expect anything less on a Mercedes-Benz. 540 litres of boot space, more than able to fit the auntie trolley length wise.
Cavernous, almost. 10 more litres than the BMW 5 Series, if you're wondering.
There is even a pullout tray table that you can use to store documents, have a quick lunch, picnic, whatever you can think of to utilise that tray table. It can handle up to 10kg maximum load, so don't put anything that's too heavy on it.
Want to find out all that Julian has to say about the 2020 Mercedes-Benz E-Class Saloon E200 Exclusive? Watch the video below to find out!