Driver looking for Jaguar F-PACE to privately settle damage costs
To the owner of this black Jaguar F-PACE, someone is desperately looking for you.
Earlier today, a video was posted online showing a cam car driver bumping into the back of a black Jaguar F-PACE in the KPE tunnel on 19th May.
The owner of the cam car is currently reaching out on social media platforms to locate the Jaguar driver to privately settle the damages.
Both vehicles were driving on Lane 2 when they noticed that the lane was closed further ahead due to another road accident. The Jaguar driver signalled right to filter to the extreme right lane but was unable to fully enter the lane.
As a result, the cam car driver couldn't stop in time and ended up hitting the back of the vehicle. Due to the heavy traffic conditions at that time, the cam car driver signalled the Jaguar driver to meet further down the tunnel to settle the insurance claims for the incident.
However, as he continued driving in Lane 2 and stopped further in front, he was unable to find the Jaguar driver (who was supposed to appear from his right). As such, the cam car driver had to take the Lorong Halus exit out of the KPE and continued to his destination. 
According to the cam car driver, he filed a police report that day and he is willing to pay the Jaguar driver for the damages that he caused.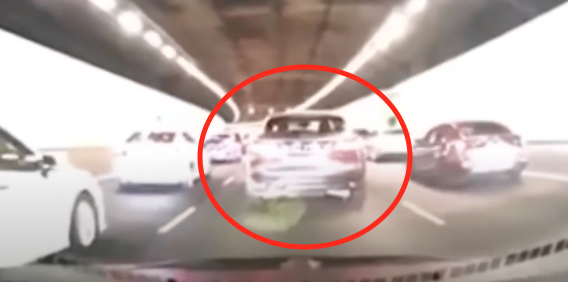 If you recognise the license plate number or know of someone who had gotten into a similar accident recently, do head on to SG Road Vigilante's Facebook page and post a response.