Making every moment easier
Entry posted by Deeq ·
549 views
Even as recently as the 1990s, online technology was seen as something of a novelty. And yet, in 2021, it's impossible to imagine life without such technology. Being 'online' has become an integral part of all our lives, and it's clear that human behaviour has been significantly impacted by our interaction with devices like our smartphones.

Complex levels of technology and digital connectivity have also unsurprisingly made their way into our vehicles. Technology has of course made cars safer, faster, and more capable, but it has the ability to also transform our relationship with our vehicles.

More than just a mode of transport, modern cars are able to make our lives better, easier and more convenient. Take the new Mercedes me connect, a suite of smart features and online services that has the ability to integrate seamlessly into your daily routines. Found on new models such as the new Mercedes-AMG GLB 35 4MATIC, Mercedes me connect extends connectivity beyond your vehicle, and into your smartphone and beyond.

Here, we look at how digital connectivity features are fundamentally integrated into the digital ecosystem of our daily lives.


Your digital relationship with your vehicle begins even before you set foot into the car. Getting started is simple - simply download the Mercedes me 2020 app (available on the Apple and Google Play Store), register an account, pair to an Meredes me connect-enabled car, and authenticate at Mercedes-Benz Center for access to the full suite of features. 

You can pull up key information about the status of your vehicle, including available range, lock status, tyre pressure, and brake fluid and coolant levels. 

Technology also allows you to activate a variety of functions and services even before you get to your car, including unlocking the car from afar. Worried that the cabin is going to be too hot? You can ventilate the car by remotely opening the windows sunroof.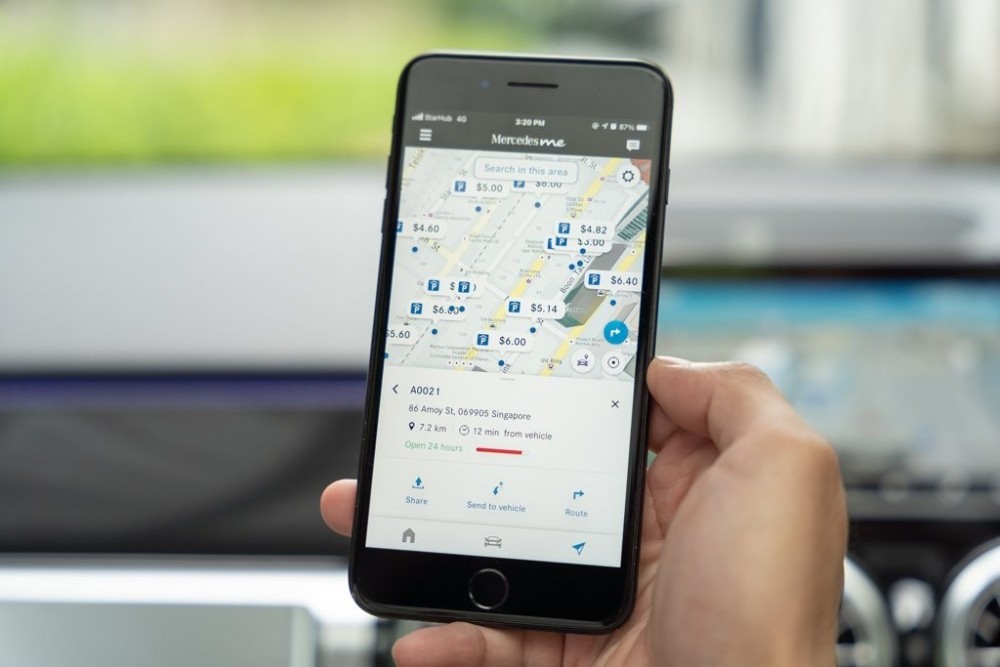 While you're waiting, you can also utilise the app's Send2Car functionality to plan out your journey. Simply open up the map on the app, search for your intended destination, and choose your preferred route. Once done, you can send the route information to the car, which will then be automatically queued up in the navigation system. One function that drivers in Singapore will find particularly useful is the app's ability to show you information about parking spaces, including real-time pricing and space availability. 

Inside the car, you can also take advantage of the what3words - it uses a 3x3m grid to allow you to search destinations on the map with pin-point accuracy. 

Wondering where to go? Mercedes me connect allows you to quickly search for restaurants and cafes from within the vehicle, with suggestions based on your location as well as Yelp reviews.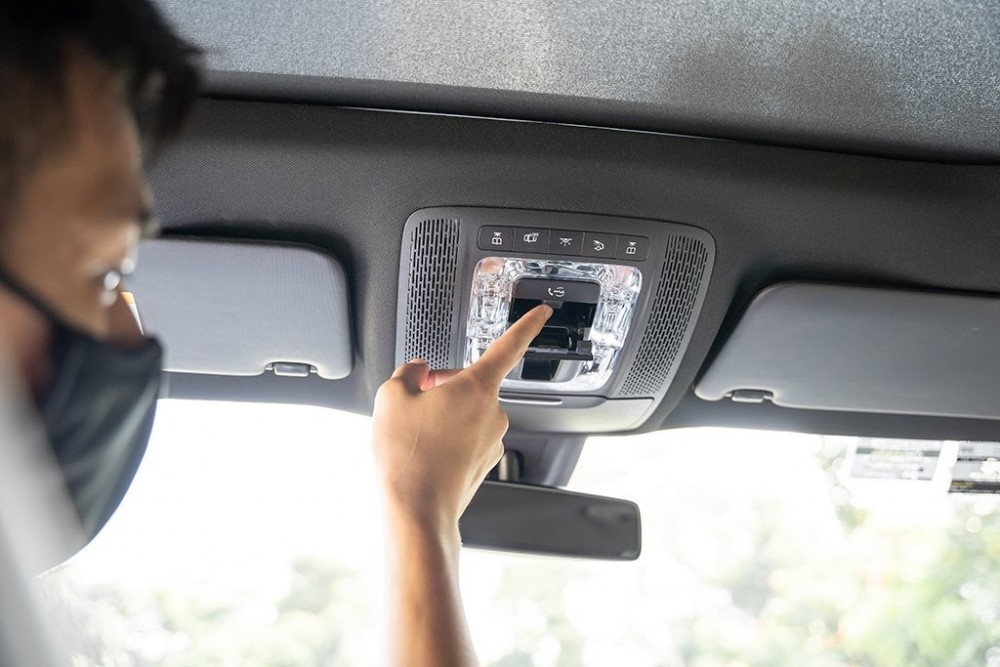 When you do get to your destination, just because you are away from your vehicle doesn't mean that you no longer have any control.

When you do step away, you can continue to monitor the status of your car. A useful feature like Valet Protect allows you to monitor your vehicle while its parked, with the app notifying if the ignition is turned on, or the car driven beyond a pre-determined geo-fenced radius. This provides you maximum security for your Mercedes-Benz during your absence, as you'll know if your vehicle is being driven without your authorisation.

Can't remember where you parked your vehicle? Using the Parked Vehicle Locator, the app will show the location of the vehicle on the map and will suggest a walking route to your car from your current location. You can also use the app to flash the car's head lights, allowing you to spot it from afar.
The app also gives you visibility of your vehicle even when you're not driving it. By using the Speed Alert feature, you can get the app to notify you when the car is driven above a defined speed limit. This can be especially useful when your son is out on a Friday night with his friends - he better not be speeding in your prized Mercedes-Benz!

With the Geofencing function, you can also be notified when the car enters and leaves various user-defined zones. While perhaps not necessary when you're behind the wheel, it can be very useful for being sure that when your son says he's heading to Chomp Chomp for supper, he really is going to Chomp Chomp.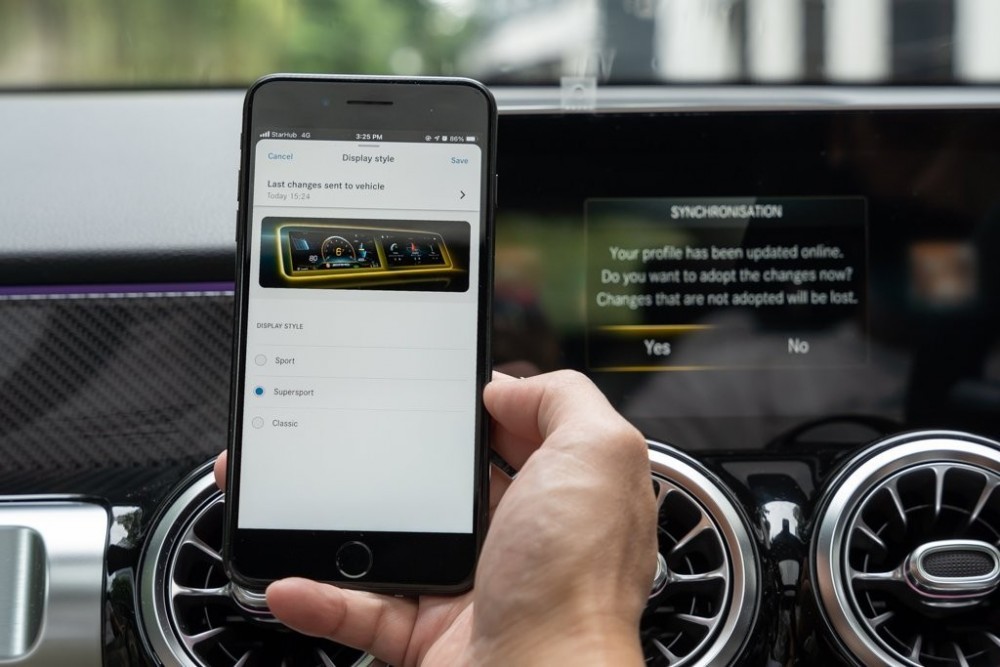 And of course, technology also makes your life in the vehicle better. Beyond just the wealth of vehicle and driving-related functions, the MMC app can also be used to tailor different profiles for different users.

You can add up to six co-users, meaning that each member of the family can have a different profile, which can adjust a range of car settings, including display styles, interior lighting, as well as favourite shortcuts for quick access. These personal vehicle settings can be individualised at any time on the Mercedes me portal.


Let's be honest, no one likes the hassle of car maintenance. Remembering when your last oil change was, whether your tyres need to be changed, when the car is due for a full service, these are all things we much rather not think about.

Thankfully, with modern technology, you no longer have to. The car can do all that for you, by keeping track of your maintenance schedule and vehicle mileage. It'll notify you when a service is due, and from the app you can very conveniently schedule a servicing appointment.
When you do run into problems, whether its loss of tyre pressure, and engine warning light, or even a vehicle breakdown, assistance is one button away. By simply using the Me call button, you will be connected to the Mercedes-Benz Customer Care Center for assistance.  

In the unfortunate situation that you do get into accident and required immediate help in the case of an emergency, with the SOS emergency services, simply push the emergency call button and you will be directed to a call centre handling emergencies.
With the advance of technology, our modern cars aren't just immensely more capable, they are also much more integrated into our digital lives. With Mercedes me connect, you gain access to a wealth of services that make your every moment seamlessly easier - not just in the car, but when you're away from the car as well. No matter what happens, you can depend on the knowledge that any assistance is just one click away.


For customers that own Mercedes-Benz cars that do not come with Mercedes me connect from the factory, it can be retrofitted via a Mercedes me Adapter installed in the vehicle. The retrofit solution offers a selection of key features, including monitoring vehicle health, finding nearby parking or petrol stations, view statistics on trips made, and contact or book appointments at Mercedes-Benz Authorised Service Centers, among others. 

To find out more, you can check out www.mercedes-benz.com.sg/mercedesme or visit Mercedes-Benz Center for more information.