New aggressive lines with the same useful practicality, that is the Audi Q7!
Welcome back, and we have another review with sgCarMart! And today, we have the 2020 Audi Q7!
Being the largest and most practical vehicle in the Audi lineup,  the Q7 has been refreshed, and it now comes with more aggressive lines seen in its stablemates, but still retains that utility and practicality that it was brought to the table. After all, a seven-seat vehicle is always useful. So, let's see what Julian has to say about the Q7.
From the get-go, it looks handsome. Audi's design language has been pretty good these past years, nothing too controversial. And not to mention, their gorgeous daytime running lights and sequential signals are always a welcome touch.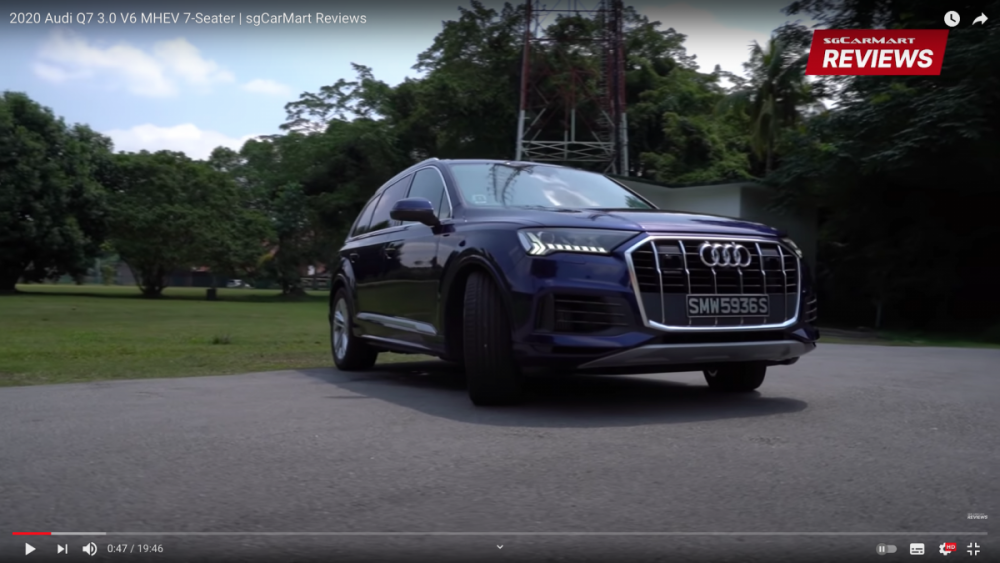 I mean, just look at it. Audi really has it down pat with the design of the grille and those daytime running lights.
And if you can take anyone's word for it, it is Julian's. "Jumping into this car, it instantly made me feel comfortable". That's pretty high praise, I would say.
That grille is indeed pretty bold, and as per Julian said, he's not sure if the grille will suit the Q3 or Q5, but it fits the Q7.
And to get more context on how big the Q7 really is....
The rear of the Q7 looks just as good, sleek, modern and clean.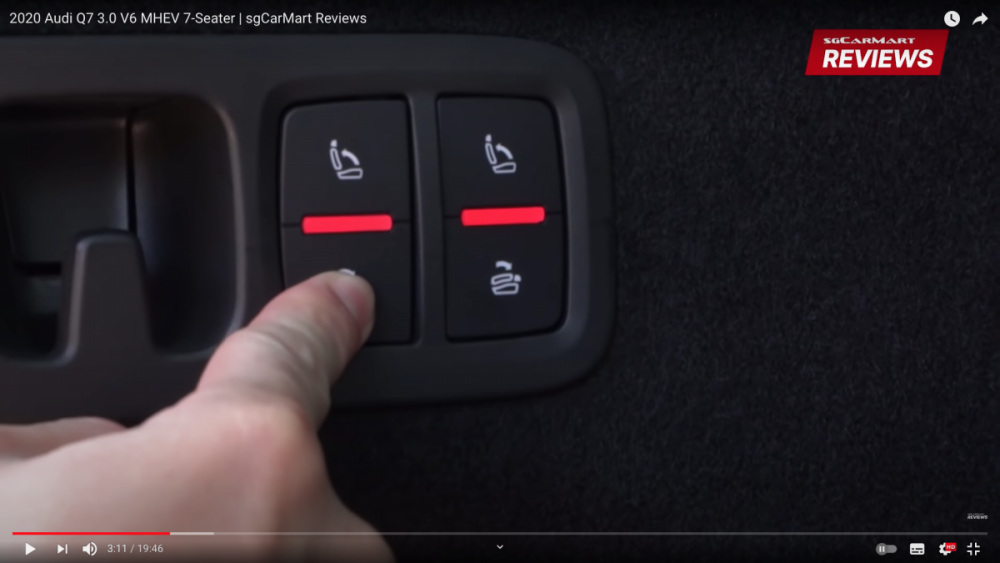 No need to fuss around when lowering the third row of seats. Audi has already thought of that and given you buttons to electronically lower the seats.
Audi knows the Q7 is a tall vehicle and loading it can be difficult for shorter people, so there is also a button to lower the rear of the car so as to make loading stuff in easier.
About 750 litres of boot space with the third row folded. If that isn't enough for you, knocking down the second row will give you over 2000 litres of cargo space. And if that still isn't enough, get a van. And if you're wondering, yes, the boot opens and closes electronically as well.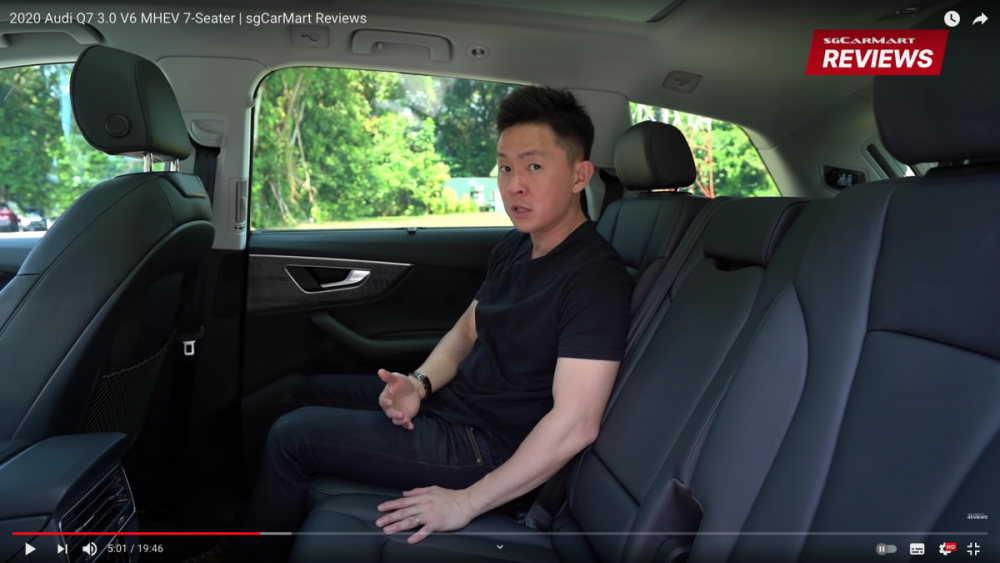 With the seat set to Jon's height (Jon is about 1.8m tall), Julian has a ton of leg room, even headroom.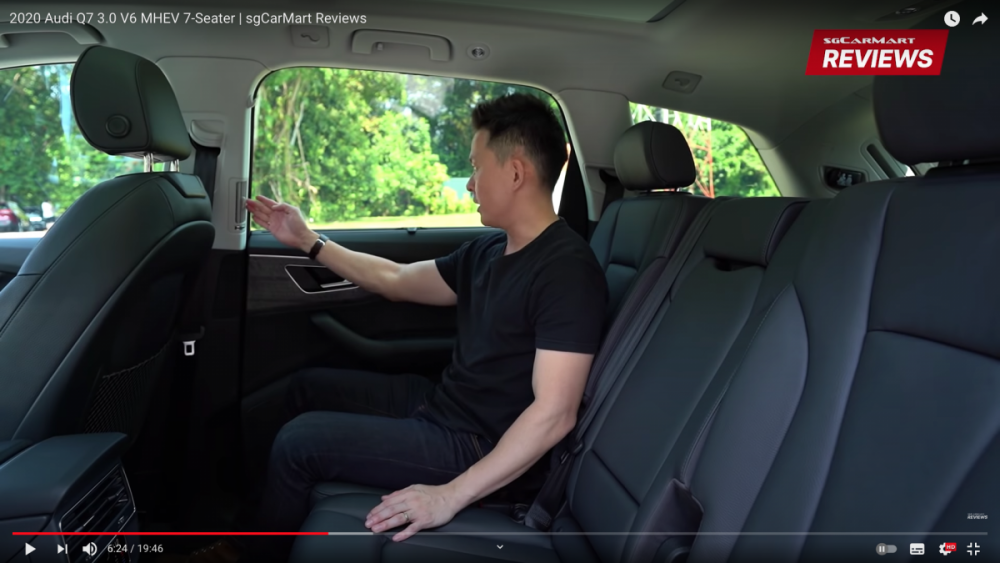 A blessing in Singapore's weather, the Q7 comes with rear aircon vents not only in the middle, but also on the B-pillars so as to blow air directly at rear passengers.
And surprisingly, the third row actually doesn't look too bad. As long as you aren't too big or tall, you should be able to fit nicely back here.
Clean, sleek and modern with screens for your infotainment, climate control and instrument cluster. The Virtual Cockpit, as Audi terms it.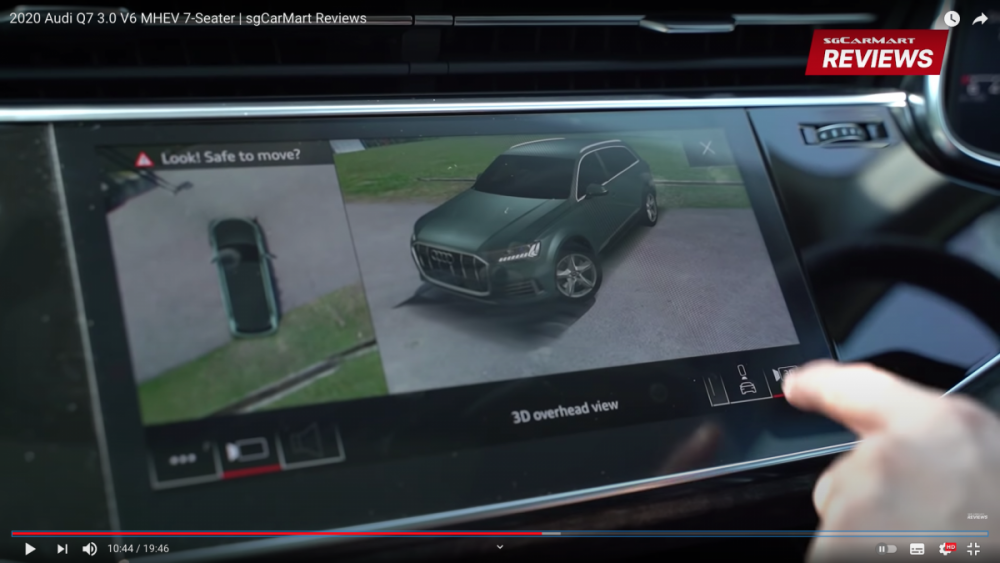 And always appreciated in a big car, 360 degree parking cameras and sensors.
Still curious? Find out more on what Julian has to say about the Q7 in the video review below!