'Kan Cheong Spider' blindly drives into yellow junction box onto incoming traffic

TL;DR - A collision occurred in Yishun between a Kia Forte and Honda Vezel at the yellow junction box. 
Every Singaporean would know what it means to be kan cheong. We are basically born to sweat 'kiasu-ness'. 
For our foreign friends, kan cheong simply means impatient, edgy and hasty. So a kan cheong spider just refers to someone who possesses such traits. 
Watch this 51-second video of a Honda Vezel colliding into a Kia Forte as it drives out from a minor road straight into the second lane of the main road. 
What happened? 
The Honda Vezel was coming out from a HDB block in Yishun (oof, what's new?) onto the main road when an incoming Kia Forte zoomed past, causing a collision between the two vehicles. 
Inevitably, both the Vezel and Forte's front bumpers suffered some form of structural damage from the impact. 
But the question is: who is at fault? 
Should the Vezel drive into the first lane first before signaling to the second lane, or should the Forte have slowed down, knowing that there is a yellow junction box just ahead? 
Let's hear what the netizens think: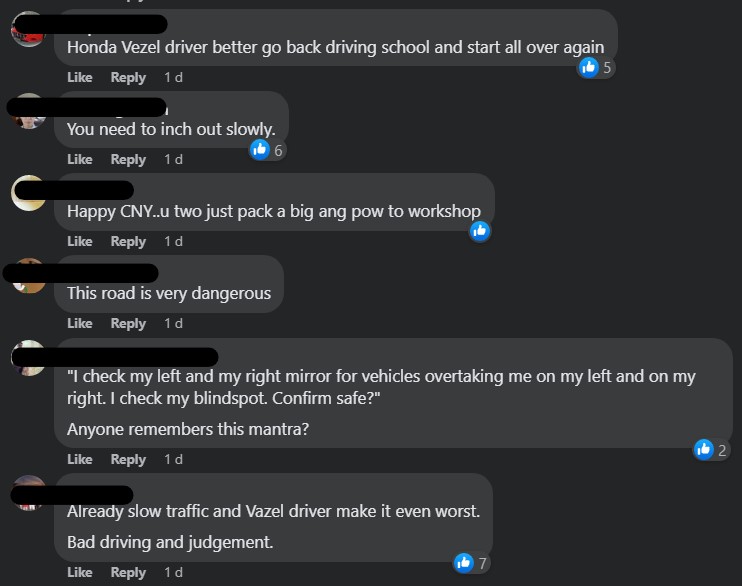 Seems like more people are faulting the Vezel for being so kan cheong.
Perhaps if he took it one lane at a time, this traffic jam wouldn't have happened. 
But of course, the Forte should have also attempted to slow down when approaching the yellow junction box as nobody will ever know if there's a vehicle waiting to 'eat' into his/her lane - Classic example right here, man learnt it the hard way.
What are your thoughts? Leave it in the comment section below! 
========= 
Be the first to get the latest road/ COE news and get first dibs on exclusive promos and giveaways in our Telegram SGCM Community. Join us today!
1