A name is something that we use to distinguish or designate one item from another. For example, in the automotive world, an auto company will give different names for their models to distinguish one model from another. So that when we see a Camry, we know it's a Camry and not a Corolla.
Some of the names given to vehicle models are unique. They might be in English or in another language. But what happens when cars are given terrible names or when their names are translated into another language, it means something funny or rude? Below are some terrible car model names that I found out recently.
Mitsubishi Pajero
The Pajero is a large size SUV, suitable for off-road usage. It was even used for some rally events. But did you know that it is known as the Mitsubishi Montero in Spain? Apparently the word "pajero" is a Spanish slang for "wanker." I reckon nobody over there wants to drive a Mitsubishi "Wanker."
Mazda Laputa
The Mazda Laputa is basically a rebadged model of the Suzuki Kei. It is categorised in the kei-car group. The car is not suitable for Spanish or Portuguese speaking countries. The reason is because the word Laputa means "the whore." Imagine telling your Spanish-speaking friend this, "Hey, look at my new car. It's a Mazda Laputa (the whore)."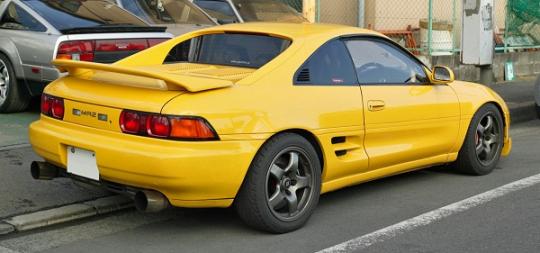 Toyota MR2
The Toyota MR2 is a nice looking sports car. But when it reached France, Toyota had to rename it the Coupe MR. The reason they did this is because the name MR2 sounded like "merdeux" which roughly means it is shitty in French.
Chevrolet/Vauxhall Nova
Both Chevrolet and Vauxhall have released a car with the model name "Nova." They probably got the name from the astrological term which "means a cataclysmic nuclear explosion in a star caused by the accretion of hydrogen on to the surface of a white dwarf star, which ignites and starts nuclear fusion in a runaway manner." A rather long and fancy definition but did you know that "no va" means "no go" in Spanish. "Aye Caramba! My Chevrolet Nova is a No Go."
Daihatsu Charade
Naturally when someone is going to buy a car, that person will behave cautiously especially towards company recognition. When Daihatsu came up with the model name Charade, it was a complete disaster. The word charade means a readily perceived pretence. And the Charade model was the last ever Daihatsu car sold in America.
Tang Hua Detroit Fish
At first, I simply do not have any words to describe the name and even the overall looks of this car. I usually do not like to make fun of ideas or inventions but this company is just asking for it. Firstly, the name sounds more like an item in a restaurant menu and the car looks like those kiddie rides where you insert a coin and the machine moves and play songs.
Sometimes giving names to items can bear funny consequences, so in the future choose names wisely. If not, you and your item will become the butt of all jokes. If you find any interesting or funny car model names, please state them in the comment box below. Thank you.
Photo credit: Wikipedia

discussions

,

america

,

spain

and 11 more...
Viewed: 2,202 times